D.C. Council decides on contingencies
But revenue for items on priority list unlikely to emerge for OK'd budget
Three weeks ago, the District's chief financial officer issued a warning: Inserting items into the city budget based on hopes that revenue may exceed projections down the road is not sound fiscal policy.
Nevertheless, council members spent hours before a final 11-2 vote approving a $10.8 billion city budget on Tuesday doing just that - jockeying to place their issues at the top of a priority list for new spending, should any additional revenue emerge in revised estimates.
The first revised estimate should come within two weeks, said David Umansky, a spokesman for Chief Financial Officer Natwar M. Gandhi. Yet it is unclear how much money will come in, leaving the list of potential spending items in limbo.
The warnings about budget provisions that trigger spending increases or reductions in revenue initiatives based on future estimates were issued by Mr. Gandhi in a May 24 letter to Mayor Vincent C. Gray and D.C. Council Chairman Kwame R. Brown.
Mr. Gandhi said the budget tactic, called "contingent spending," was "outside of the District's traditional budget formulation and amendment process."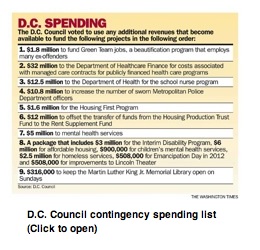 The council has the legal authority to provide for contingent budgeting, Mr. Gandhi said, but "we caution that while certain signs indicate that the national and local economics are improving, the economic outlook remains uncertain."
City leadership followed up by moving contingency measures from the Budget Request Act (BRA) that goes before Congress to the Budget Support Act (BSA) - so no further congressional approvals would be required if additional money was found - but did not appear to heed red flags on the concept itself.
Mr. Brown said the council has regularly used the budget to establish funding contingencies.
"Establishing uses for future revenue, through the BRA and BSA, allows the District to legislate priorities now, so that it will minimize the delay of an additional appropriations process if new revenues do materialize," the chairman said.
Council member Mary M. Cheh, Ward 3 Democrat, said the list allows the council to get a jump-start on priorities - something they would have to do anyway with additional revenue - but it also cultivated mischief and "rank politics" from the dais.
"I have to say it had the feel of a bazaar," Ms. Cheh said of the budget deals made on Tuesday.
For the CFO, Mr. Umanksy declined to address the wisdom of the priorities list, noting his office does not comment "on the doings of the council."
The new spending - which would fund priorities that range from additional police officers to a school nurse program to mental health services - will only begin after $21.6 million in new revenue is used to shift some employees in the capital budget to the operating budget and 50 percent of remaining funds are deposited in the District's fund balance.
Notably, the council placed $32 million in spending pressure from the Department of Healthcare Finance in the second position on the priorities list, meaning the District must see $89.2 million in an upcoming revenue estimate to cover one of its managed-care contracts (after $1.8 million pays for Green Teams, the council's No. 1 priority for additional revenue).
Mayor Vincent C. Gray deemed the issue his "most important priority," yet it pushed topics such as the hiring of additional police officers, further down the list.
The council on Tuesday narrowly shot down an effort by Mr. Brown to remove the $32 million measure from their priorities list, noting the late-emerging issue caused "heartburns" for several members.
Council members Jack Evans, Ward 2 Democrat, and David A. Catania, at-large independent, said the mayor should find the money on his own instead of requesting it of the council.
Mr. Catania said the city was showing its hand in negotiations with a managed-care organization that threatened to leave the public health care system because of underfunding of Medicaid reimbursements, and he was visibly upset by the proposed allocation.
Other members noted it was a serious public health care concern for the entire city, and not one branch of government.
"This was yet another example where the legislature and the executive came together to find a constructive solution to what otherwise would have been a monumental problem," Mr. Gray said on Wednesday.
Wayne Turnage, director of the Department of Healthcare Finance, said Wednesday the actuarial tables governing rates for D.C. Medicaid and the D.C. Healthcare Alliance reimbursements were "unsound." The problem was discovered shortly after he assumed office this year and, after an analysis, the seriousness of the spending pressure coincided with budget talks.
The mayor said he was glad the council was still in negotiations, "so that we had an avenue to be able to find a solution."
"I think we took the most responsible avenue, and that is when something was discovered, we took steps to try to address it," Mr. Gray said.
In a statement, the mayor praised the council's "valiant effort" with its first budget vote to maintain funding for police officers and social services, before the health care pressure came to light.
"I wish that budgets were perfect," Mr. Gray said. "I wish that when we did a plan we could say this is going to be executed exactly as it has been crafted, but it never works that way because this is a dynamic process."
© Copyright 2013 The Washington Times, LLC. Click here for reprint permission.
Commentary
By Michael P. Orsi

Edward Snowden should declare his patriotism in court
Independent voices from the The Washington Times Communities
All of the world's problems, solved on your back porch
Paul Rondeau exposes the propaganda, media tricks, and government policies that undermine our families, faith, freedom…and even life itself
Implement these actionable tips, how-to's and best practices in 10 minutes or less to leverage online communications and technology for brand, business and career development.
The world impacts us. What happens in our towns, cities, states, country and on this planet makes a difference to us.