A top political aide and a consultant to former Maryland Gov. Robert L. Ehrlich Jr. were indicted Thursday for arranging robocalls last Election Day that prosecutors say attempted to deceive opposing voters.
The Grand Jury of Baltimore City filed the charges against former campaign manager Paul E. Schurick and consultant Julius Henson, both members of the 2010 gubernatorial campaign for Mr. Ehrlich, a Republican. The charges include six combined counts of conspiracy to violate Maryland election laws.
The two are accused of sending an anonymous robocall to supporters of Democratic Gov. Martin O'Malley that said he had already won a second-straight term and they could "relax" and "watch it on TV."
The calls were allegedly sent to more than 110,000 Democratic voters in Baltimore and Prince George's County, and began at about 6 p.m. — two hours before polls closed.
"The state prosecutor's office is charged with safeguarding the integrity of the election process," said state prosecutor Emmet C. Davitt. "We will aggressively investigate and prosecute any illegal tactics that attempt to threaten its integrity."
Prosecutors began investigating the calls late last year, after complaints from voters and Democratic officials. Mr. Ehrlich testified this month before the grand jury and has denied involvement.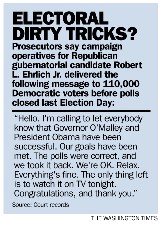 Prosecutors allege the calls were made primarily to African-American voters as part of Mr. Henson's alleged strategy to suppress turnout and "promote confusion, emotionalism and frustration" within the black community.
According to charging documents, Mr. Henson, who is black, is accused of arranging the calls after conversations with Mr. Schurick and telling a colleague Mr. Schurick had told him not to include an authority line in the calls identifying Mr. Ehrlich's campaign as the source.
Mr. Henson, 62, took responsibility for the calls last year and said he does not think Mr. Ehrlich had any advance knowledge.
Despite the calls, Mr. Ehrlich lost by more than 14 percentage points, after losing his governorship to Mr. O'Malley in 2006.
Mr. Schurick, 54, and Mr. Henson have each been charged with three counts of conspiracy to violate Maryland election laws and single counts of attempting to influence voter turnout through fraud and failing to provide an authority line on distributed campaign material.
Mr. Schurick was also charged with one count of obstruction of justice for allegedly withholding documents sought by the grand jury.
Peter R. Zeidenberg, an attorney for Mr. Schurick, said in a statement that he will "vigorously contest" the charges.
"Mr. Schurick never conspired with anyone to suppress the votes of any Maryland voters, and he did nothing to obstruct this investigation," Mr. Zeidenberg said.
Mr. Henson's attorney, Edward Smith Jr., could not be reached for comment Thursday night.
Mr. Ehrlich issued a statement in support of Mr. Schurick.
"I believe in the rule of law. I believe in my friend and colleague, Paul Schurick," he said. "I hope a fair resolution is reached as quickly as possible for both Paul and Mr. Henson."
© Copyright 2016 The Washington Times, LLC. Click here for reprint permission.