ANALYSIS/OPINION
Until he had his Roy McAvoy Moment on the 18th hole and reminded everybody he was human, Rory McIlroy was walking in the clouds Friday at Congressional. He had gone to where no man had gone before in the U.S. Open — to the distant stratosphere of 13-under par — and had turned a proud, USGA-ified golf course into the Greater Belfast Pitch and Putt.
Thirty-five holes, 11 birdies, one eagle, no bogeys — and a humongous lead on a field that was now choking on his dust. Venerable Phil Mickelson, one of his playing partners, must have felt like he was watching his career pass before his eyes. Here he was, calling on all his resources to get back in the tournament, and this 22-year-old from Northern Ireland was making him look like he was ready for the Champions Tour.
What, for that matter, must Tiger Woods be thinking as he tends to his wounds at his manse in Florida? McIlroy has been performing the kind of magic at Congressional that Woods did at Pebble Beach in 2000, when he won the Open by 15 strokes. Could Tiger, too, be wondering if he's watching the player who will replace him in golf fans' hearts — and even, perhaps, in the record books?
But let's go back to 18 for a minute. What happened there is as worthy of discussion as McIlroy's 5-under 66 – which gave him the lowest 36-hole score ever in the Open (131) as well as a record-tying six-stroke cushion over his closest pursuer: Y.E. Yang, the 2009 PGA champ. On 18, you see, Rory hit it in the water when the situation cried out for caution … and took a needless double bogey that he had to sleep on Friday night.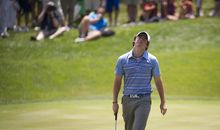 Was it just a blip, or was it a flashback to his fourth round earlier this year at the Masters, when, in front by four, he shot an 80 and blew his first chance at a green jacket? We'll know for sure in 36 holes. But, whatever the case, it was a fascinating — and unforeseen — development.
It began with McIlroy knocking his drive on the 523-yard par-4 well into the left rough, which confronted him with a second shot he had to shape around some trees. This is where he began channeling McAvoy, the range-pro hero of "Tin Cup." Roy was a go-for-it kind of guy, and Rory decided on the same course of action — even though 18 is fraught with danger and even though Mickelson, from an even worse lie, had plunked his ball in the pond just seconds before.
"I was just trying to play out to the right front portion of the green," McIlroy said. "And I just got a little bit of grass caught in between the club face and the ball. The club turned over a bit and that's really … that was all that happened."
Actually, one other thing happened: One of the most incredible runs in golf history had come to a screeching halt.
Maybe we should just chalk it up to: Why Great Athletes Are Different from the Rest of Us. Let's face it, the supremely talented aren't dogged by a whole lot of doubt. When Larry Bird was asked one time why he'd attempted — just for show — some ridiculous, falling-out-bounds 3-pointer, he replied, memorably: "It's not the shot. It's the degree of difficulty."
Sometimes, in other words, an athlete will try something for the sheer insane challenge of it. Who knows? Perhaps McIlroy's Inner Rory was whispering: "If you can smoke this one up on the green and hole the putt for a 63 – matching the all-time best round in the Open – they'll be replaying this shot forever." What 22-year-old could resist a temptation like that?
Besides, after his meltdown at Augusta, he decided he "needed to be a little more cocky, a little more arrogant on the golf course," he said. "I just try and have a bit of an attitude, you know?" When he's up by as much as he's up at Congressional, he went on, "I have to make sure I don't start playing defensively. That's really the main thing. Even if you get 4 or 5, 6 ahead of the field or whatever, you're trying to get 7 ahead, 8 ahead, 10 ahead. You're just trying to keep going."
Then again, maybe the voice inside McIlroy's head was Jack Nicklaus'. When Rory sought him out for advice, the Golden Bear told him (in the kid's words): "You have to put pressure on yourself. There's going to be pressure from everyone else, so you've got to make sure that you really want it and you've got to go out there and expect to play well and put pressure on yourself to play well."
If bending a shot out of the rough — to a peninsula green — isn't putting pressure on yourself, what is?
But enough of that. McIlroy is, after all, playing some amazing golf. For most players, a 65 in the Open is a once-in-a-lifetime thing. Only Nicklaus has had two rounds that low: a closing 65 in 1967 and an opening 63 in '80. (He won both times.) Yet here was Rory on the cusp of a 65-64 start – or at worst 65-65 – until, that is, he went McAvoy on us. A 65-64 start to the Open? Are you kiddin' me? Those are the kind of numbers you put up on a desert course in January or February, not at Congressional in the third week of June.