No early-intercept defense
A forthcoming study by the Pentagon's Defense Science Board concludes that an Obama administration plan to shoot down long-range Iranian missiles shortly after launch will not work.
Portions of the classified study were disclosed recently during a hearing of the Senate Appropriations defense subcommittee by Sen. Richard C. Shelby, Alabama Republican.
"The report's unclassified conclusion is that [Missile Defense Agency] plans to achieve an early intercept capability as part of the Phased-Adaptive Approach are simply not credible," Mr. Shelby said June 15.
The administration's four-phase plan for European-based defenses calls for using three versions of the Navy SM-3 interceptor missile instead of more capable and faster Ground-Based Interceptor (GBI) missiles, like those currently deployed in Alaska and California.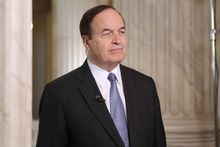 The phased approach calls for ultimately fielding a souped-up variant of the SM-3 called Block IIB by 2020. The interceptor would be used against Iran's arsenal of medium-range, intermediate-range and perhaps continental range missiles. In the future, the Pentagon has said it plans to use to Block IIB for so-called "early intercept" — before a missile releases its warhead and decoys.
A congressional aide said the conclusions of the report were "very shocking" when administration officials disclosed them during a recent briefing to staff members.
Missile speeds and the short times military officials have to make a decision to fire interceptors at an enemy missile means "early intercept wasn't feasible for missile defense," the aide said.
Boost-phase intercept is possible but only for extremely narrow target-area near-missile launch locations.
Defense subcommittee senators will be looking at ways to modify funding plans for missile defense programs this year in response to the report, the aide said.
Mr. Shelby said the report was disturbing because the Pentagon promised to develop an early intercept capability for the SM-3 Block IIB missile by 2020 that "was the central justification — as I understood it — to cancel the third site in Europe and to kill the [Kinetic Energy Interceptor] boost phase defense program."
The third site would have deployed Ground-Based Interceptors in Poland and a radar in Czech Republic, after the two current sites in Alaska and California. That plan was rejected by President Obama, amid opposition from Russia, as part of the plan to reset ties with Moscow.
"Now it looks like the nation may be left with an inadequate defense in Europe and no boost-phase intercept capability," Mr. Shelby said.
Adm. Mike Mullen, chairman of the Joint Chiefs of Staff, said at the hearing of the early-intercept program that "the whole issue of boost-phase intercept is an extraordinarily difficult technical challenge."
"And at least if someone's broken through on that, I haven't seen that," Adm. Mullen said.