NEW YORK — Just more than 24 hours before NBA draft, about a dozen young men gathered at a New York city hotel to face a room full of reporters. It's something they'll have to get used to pretty quickly. These players are about to become professional athletes, and their lives are about to change, some far more so than others.
Some are making the leap from college, but some are leaving their home countries for the United States and leaving International league play for the NBA, all while learning a new language, culture and way of life.
Four players who appear somewhere on Washington's draft board were in that media room — Enes Kanter, Kawhi Leonard, Markieff Morris and Jan Vesely. Any one or more of them could be Wizards by Thursday night. Barring a trade, they will have the sixth, 18th and 34th overall selections.
"I had a good workout with Washington," said Morris, a 6-foot-9 power forward from Kansas. "They are definitely looking for forwards that can run with John Wall and stretch the floor. I can definitely be another defensive presence. I can score if they need me to; I can be the guy they can throw it to in the post and score, and I can pick and pop with John."
Also on the draft board for the Wizards is rebounding machine Kawhi Leonard, a 6-7 small forward from San Diego State, who could be a good fit in coach Flip Saunders' "junkyard dog" role. He's a defensive-minded player who seems to enjoy rebounding more than scoring.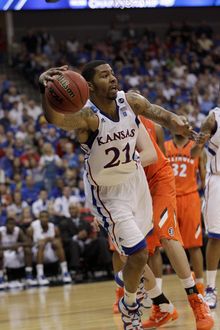 "I felt good about Washington," Leonard said. "I just tried to go out there and compete and play my hardest."
In addition to his on-court tryout, Leonard said the Wizards also talked with him at length about his background.
"They wanted to see what kind of person I am, see if I'm a hard-working player," he said. "I'm not a one-skilled person, I do a lot of things on the court, so whatever my coach wants me to do, I'm ready to play."
If the Wizards opt to go for a European player, Kanter and Vesely could be at the top of the list.
Kanter, a 6-11 center from Turkey, works as a student assistant coach for Kentucky. He couldn't play for the Wildcats because the NCAA declared him ineligible for receiving money for playing overseas.
"It was tough because I couldn't play in any games," he said. "Every practice, that was my game. I just tried to give it 100 percent in practice."
In preparation for the draft, Kanter worked with well-known trainer Tim Grover in Chicago and it did wonders for his game and his confidence.
"It feels great [to be one of the top international players]," he said. "I'm going to show everybody that European basketball is getting so much better."
Kanter may not be around at No. 6, but he's expressed an interest in playing for Washington and has been called one of the most NBA-ready players in this draft by several analysts.
Vesely, a 6-11 forward from the Czech Republic who likes to play the three but said he's also comfortable at the four, probably has a better chance of being around at the sixth pick than Kanter.