The Department of Homeland Security (DHS) and congressional Democrats and have launched an assault on House Republicans' plans for spending cuts this year, saying they would slash vital programs protecting the nation's borders, airports and computer networks.
In testimony before House and Senate appropriators Wednesday, Homeland Security Secretary Janet Napolitano provided details of some of the cuts she said the current-year spending bill the House passed last month would impose on her department:
• Cutting $560 million from the department's Science and Technology Division, halving its budget.
• Halving the number of new Advance Imaging Technology scanners and portable Explosive Trace Detection machines that will be bought this year for airport passenger screening, which will lengthen wait times at checkpoints.
• Reducing by two-thirds the number of K-9 security teams deployed at checkpoints, from 275 to 100.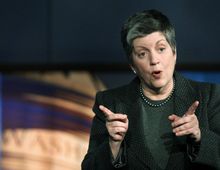 • Cutting funds for 250 Immigration and Customs Enforcement (ICE) agents and interoperable communications on the southern border.
House Republicans quickly contested her claims.
Rep. Robert B. Aderholt, Alabama Republican and chairman of the House Appropriations subcommittee on homeland security, said the House spending bill (HR1) "fully funds all front-line operations and essential personnel," including the Border Patrol, Coast Guard and ICE agents.
Mr. Aderholt added that DHS officials had assured his staff in technical guidance that HR1 would not lead to cuts in front-line enforcement personnel.
"Our staffs need to get together," Ms. Napolitano said. "There clearly is a strong difference of opinion on what [HR1] does, especially to ICE."
A Republican congressional staffer told The Washington Times there was no evidence that wait times would lengthen at airports, and said DHS "wouldn't have been able to buy all the [scanners] it planned, even if we gave them their whole request."
An analysis provided by Democratic congressional staffers provided details of other cuts they said HR1 would impose:
• Cutting $34 million from E-Verify, the administration's online system that helps employers check the immigration status of new hires - a 25 percent budget reduction.
• Scaling back and delaying Einstein 3, a new cybersecurity system for U.S. government computer networks.
• Cutting by 25 percent the budget for U.S.-CERT, the computer emergency response center that is the public face of the federal response to computer viruses, malicious software and other cyberthreats.