'VIVE LA FRANCE!'
Frank Duggan had held a grudge against the French since 1986, when Paris refused to allow U.S. warplanes to fly through its airspace to retaliate against Libya for a terrorist attack that killed and wounded U.S. troops.
Mr. Duggan, a former aide in the George H.W. Bush administration, disliked the French almost as much as he hated Col. Moammar Gadhafi.
However, when he learned over the weekend that French fighter jets fired the first shots in the allied air war against the Libyan dictator, he cheered. All is forgiven.
"I have held a grudge, as only an Irishman can," the pugnacious Irish-American lawyer said from his Alexandria home. "I take it all back. I no longer call [the French] 'cheese-eating surrender monkeys' and have stopped ordering freedom fries."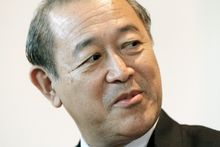 "Vive la France! The spirit of Lafayette lives on," he added.
Mr. Duggan, who already viewed Col. Gadhafi as a global terrorist leader in 1986, stepped up his anger against him two years later when a Libyan terrorist blew up Pan Am Flight 103 over Lockerbie, Scotland. All 259 passengers and crew, including 190 Americans, died.
Mr. Duggan, originally an administration liaison to the families, eventually became president of the Victims of Pan Am Flight 103, which represents the relatives of those who died on the doomed airliner.
JAPAN THANKS U.S.
The Japanese ambassador says his distressed nation is grateful to Americans for their support for victims of the massive earthquake and tsunami that struck Japan on March 11.
"American people … are sending your sympathy, expressing your friendship to us," Ambassador Ichiro Fujisaki told the Brookings Institution in Washington last week.
He insisted that his government is doing everything it can to help hundreds of thousands of victims and control radiation leaking from a disabled nuclear power plant.
"What I can say is we are trying our best," he said.
DIPLOMATIC TRAFFIC
Foreign visitors in Washington this week include: