RIO DE JANEIRO | President Obama, who has seen a highly anticipated tour of Latin America overshadowed by events in Libya, held up Brazil on Sunday as a model for the Middle East as the region grapples with a wave of pro-democracy uprisings.
The primary aim of Mr. Obama's visit is to expand U.S. ties with the world's seventh-largest economy, particularly as Rio de Janeiro beefs up its infrastructure ahead of the 2016 Olympics and recent oil discoveries transform Brazil into one of the world's top energy producers.
But one day after meeting with President Dilma Rousseff and CEOs from the two nations, Mr. Obama, who spent part of his day playing soccer with children in a Rio slum, turned his attention directly to the Brazilian people, drawing a standing ovation from a crowd here at the elegant Teatro Municipal.
"In Brazil, you fought against two decades of dictatorships for the same right to be heard — the right to be free from fear, free from want. And yet, for years, democracy and development were slow to take hold, and millions suffered as a result," he said. "But I come here today because those days have passed. Brazil today is a flourishing democracy — a place where people are free to speak their mind and choose their leaders; where a poor kid from Pernambuco can rise from the floors of a copper factory to the highest office in Brazil."
Attacks by U.S. and British forces on Libyan dictator Col. Moammar Gadhafi's air defenses threatened to disrupt Mr. Obama's narrative as he reached out to the people of Brazil, which as a temporary member of the U.N. Security Council abstained from the vote authorizing a no-fly zone. But Mr. Obama sought to recast the situation as a broader struggle for freedom.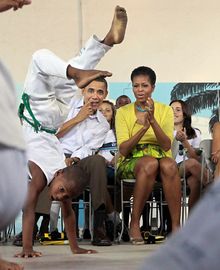 "From the beginning, we have made clear that the change they seek must be driven by their own people," he said. "But for our two nations, for the United States and Brazil, two nations who have struggled over many generations to perfect our own democracies, the United States and Brazil know that the future of the Arab world will be determined by its people."
It's clear Mr. Obama remains popular here in Brazil — posters of his face on a local magazine were plastered on walls at street corners — and he dialed up the charm as he wrapped up the first leg of his three-country trip with a slew of cultural events, including a visit to the infamous "City of God" favela and the city's iconic "Christ the Redeemer" statue. At the slum, which was once overrun with crime but now is trumpeted as a successful example of government rehabilitation, Mr. Obama scuffed up his dress shoes by kicking a soccer ball with local kids.
During Saturday's state dinner, Ms. Rousseff observed that she and Mr. Obama are both trailblazers — the first female president of Brazil and the first black president of the United States.
In his speech, the president recalled as a child seeing one of his mother's favorite movies, a 1959 Brazilian film called "Black Orpheus," set in Rio de Janeiro during the annual Carnival festival.
"My mother is gone now, but she would have never imagined that her son's first trip to Brazil would be as president of the United States," he said.
Mr. Obama had originally been scheduled to deliver the speech in a historic public square, but the White House said it was forced to move the event indoors due to a "number of concerns" — a decision that fueled some consternation in the Brazilian media.