NARA, Japan | Prime Minister Naoto Kan tried Monday to reassure the world that emergency crews are making progress to prevent a wider nuclear disaster in Japan, as U.N. health officials and the World Bank delivered more bad news for the battered nation.
Japan's National Police Agency raised the death toll Monday to 8,805, with 12,654 missing. The earlier death toll was about 2,000.
After workers over the weekend struggled to rig electrical cables to the six nuclear reactors at the Dai-ichi power plant, Mr. Kan said he saw hope of restoring cooling systems and preventing a meltdown at four of the reactors crippled by the tsunami caused by the massive earthquake 10 days ago.
"While we haven't reached the point where we can say we've gotten out of this crisis situation, it can be said that we can see the light at the end of the tunnel," Mr. Kan said during a crisis meeting at his Tokyo office.
Shortly after the meeting, however, nuclear safety officials reported smoke billowing from two reactors, forcing workers to temporarily halt attempts to restore power. Later in the day, engineers managed to hook up power lines to all six units and started a water pump at one.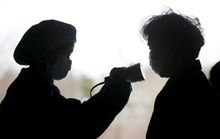 The World Health Organization (WHO), meanwhile, warned of contamination in farm products beyond the vicinity of the seaside nuclear reactors in Fukushima province, about 150 miles northeast of Tokyo.
The World Bank added another blow Monday, warning that Japan may need five years to rebuild from the disasters, with between $122 billion to $235 billion in damages. That would equal 2.5 percent to 4 percent of the gross domestic product of Japan, the world's third-largest economy.
The bank also predicted that the cost to private insurers will be up to $33 billion and that the government will spend $12 billion on reconstruction in the current budget and much more later.
Japanese officials ordered the suspension of shipments of spinach from four provinces that normally provide the greater Tokyo area with much of its fresh produce.
Japan's Ministry of Science said traces of radioactive iodine were found in samples of tap water in nine provinces including Tokyo, Saitama, Chiba and Kanagawa, home to more than 30 million people.
The WHO report suggested that wind and rain has blown radioactive particles to the west and south far beyond Japan's 18-mile danger zone around the power plan.
While Japanese government officials said the low levels of radiation posed no immediate health risks, the WHO said contaminated food may have already made it to markets in Japan. It found no evidence that Japan was deliberately exporting radiated food to countries that have stepped up screening of goods from Japan.
"Quite clearly it's a serious situation," said Peter Cordingley, a regional WHO spokesman. "It's a lot more serious than anybody thought in the early days when we thought that this kind of problem can be limited to 12 to 18 miles. It's safe to suppose that some contaminated produce got out of the contamination zone."
Many consumers in Japan shunned spinach, sold in packages that often do not show the place of origin.
"Please do not overreact, and act calmly," said Chief Cabinet spokesman Yukio Edano. "Even if you eat contaminated vegetables several times, it will not harm your health at all."