Tennis
INDIAN WELLS, Calif. (AP) | Novak Djokovic beat top-ranked Rafael Nadal 4-6, 6-3, 6-2 to win the BNP Paribas Open title on Sunday, keeping the Serbian undefeated this year.
Djokovic improved to 18-0, including victories at the Australian Open and in Dubai last month. He will move into the No. 2 spot when the ATP Tour rankings are released Monday, having bumped Roger Federer down to third after he lost to Djokovic in the semifinals. Nadal will remain No. 1 with a 14-3 record.
After Nadal's forehand hit the net on match point, Djokovic threw his head back and let out a prolonged yell while pumping both arms.
Earlier, top-ranked Caroline Wozniacki defeated 15th-seeded Marion Bartoli 6-1, 2-6, 6-3 to win the title a year after the Dane lost in the final.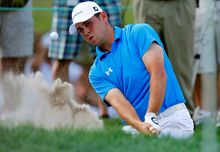 Djokovic became just the third player to beat Nadal and Federer in the same tournament twice, having last done it at Montreal in 2007. That year, Djokovic lost to Nadal in the final here, then won in 2008.
Nadal had beaten Djokovic in all five of their previous finals meetings, and he broke him twice to win the first set.
Djokovic broke to lead 5-3 in the second set, then survived a five-deuce game on his serve to take the set, winning when Nadal's backhand went wide.
He broke an error-prone Nadal twice in the first three games of the third set to take a 4-0 lead. Djokovic served out the match at 40-love to keep Nadal without a title since October.
Wozniacki won her WTA Tour-leading 19th match of the year and her second title while appearing in the final for her third consecutive tournament.
Wozniacki won on her second match point when Bartoli's backhand sailed beyond the baseline. Bartoli was playing in her first final since 2009, and she fell to 2-6 in matches against the No. 1 player.
The victory allowed Wozniacki to improve her results for the fifth straight year in the desert. She lost in the first round in her 2007 debut, reached the fourth round in 2008, the quarterfinals in 2009 and was runner-up to Jelena Jankovic a year ago.
She earned $700,000, and was already assured of remaining No. 1 through the upcoming two-week tournament in Miami. Bartoli is projected to be No. 10 when the rankings are released Monday, her first time back in the Top 10 since June 2008.
"If every single match I could play like that throughout the years, I would be pretty happy," Bartoli said. "Even though I came up a bit short at the end and she was better than me, I think it was really a great fight."
NASCAR