Suzanne Peck, the assistant general manager in charge of technology at the Washington Metropolitan Area Transit Authority since 2007, has quietly resigned.
The move, effective Feb. 25, was announced in a recent WMATA staff memo obtained by The Washington Times.
Ms. Peck, who previously worked as chief technology officer for the D.C. government and served as a fundraiser for D.C. Mayor Vincent C. Gray, could not be reached for comment Thursday.
She resigned months after being named 2010 "Government IT Executive of the Year" by the Tech Council of Maryland. She also was the subject of speculation about whether she would land a prominent spot in the Gray administration with The Washington Post in November calling her "a major Gray supporter and fundraiser who could play a key role in the administration."
Ms. Peck also served as co-chairman of the technology committee on Mr. Gray's mayoral transition team, issuing a report that made recommendations on improving the agency she oversaw under former D.C. Mayor Anthony A. Williams.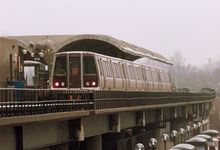 Her resignation from WMATA was announced in a four-sentence memo sent to transit agency employees from WMATA's chief financial officer, Carol Dillan Kissal. The memo said Ms. Peck "has led the transformation of the information technology department over the past four years" and thanked her for her "significant contributions."
Robert Kramer, former program manager in the WMATA Office of Applications, Development and Operations, takes over as acting assistant general manager, information technology, according to the memo.
Ms. Peck's resignation was confirmed by officials Thursday after The Times inquired about two previously undisclosed investigative reports by the WMATA's Office of Inspector General concerning Ms. Peck.
The reports, issued in 2007 and 2008, were obtained this week through an open records request made by the newspaper nearly a year ago. They separately raised issues about Ms. Peck's role in awarding technology contract work to a vendor and whether she violated policies by requesting payroll information on an employee who did not report to her at the time.
She sharply disputed both reports' findings in formal responses to the inspector general.
In one report, the inspector general said Ms. Peck sought payroll information from an employee who did not report to her, which is against WMATA policies.
In a response, Ms. Peck said she did so because of concerns that an employee was earning excessive and possibly fraudulent compensation, and the employee was in the process of being transferred to her department.
In a separate report, the inspector general said a contract company employing a subcontractor who had known Ms. Peck for more than 20 years received thousands of dollars from WMATA before a formal contract was approved.
The report said the circumstances "gave a strong appearance" that the contractor "was pre-selected for the contract work".
In a response, Ms. Peck said the contractor was fully qualified and hired under proper WMATA procurement procedures, "in which Ms. Peck did not participate." She called the inspector general's finding "unwarranted and unfounded."