President Obama for the first time publicly called Thursday for Libyan leader Col. Moammar Gadhafi to give up power and leave the country, saying he had not ruled out U.S. military action as the crisis in North Africa unfolds.
In his first extended comments on the situation in Libya, Mr. Obama said at a White House news conference that he was mulling a full range of options to ensure the U.S. can act quickly if the violent crackdowns deteriorate into a broader humanitarian crisis.
Mr. Obama acknowledged that one option would be a "no-fly zone" to prevent the regime from waging air attacks on civilian protesters, but he stressed that any actions need to be taken "in consultation" with the international community.
In a clear bid to peel off Col. Gadhafi's supporters within the embattled regime in Tripoli, the president also warned Libyan commanders and government officials that they will be held responsible for attacking their countrymen. He said he has authorized the use of U.S. aircraft to help people fleeing Libya return to their home countries and deployed humanitarian assistance teams to the border.
"There is a danger of a stalemate that over time could be bloody. And that is something that we're obviously considering," Mr. Obama told reporters in the East Room, where he held a news conference with Mexican President Felipe Calderon. "So what I want to make sure of is that the United States has full capacity to act — potentially, rapidly — if the situation deteriorated in such a way that you had a humanitarian crisis on our hands or a situation in which defenseless civilians were finding themselves trapped and in great danger."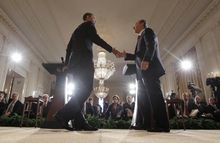 Mr. Obama and Mr. Calderon touched on issues of immigration, drug violence and fallout over the recent slaying of a U.S. customs agent in Mexico, but it was the Libyan crisis that dominated the news conference.
Mr. Obama said he doesn't want the U.S. to be "hamstrung" as it reviews a full range of options against the Gadhafi regime.
After 41 years in power, Col. Gadhafi is struggling to recapture eastern cities that have been taken by rebels while clamping down harshly on protesters in his western stronghold of Tripoli. In televised speeches and interviews, the leader has rejected the notion that Libyans are unhappy with him and blamed journalists, Osama bin Laden and others for engineering the uprisings.
The Libyan clashes are the most violent of a string of political revolts that have swept across the Arab world since the beginning of the year, uprisings that have challenged the White House's ability to stay ahead of the curve.
Mr. Obama told German Chancellor Angela Merkel in a telephone call last weekend that Col. Gadhafi needed to step down immediately, but Thursday marked the first time he has publicly made that call.
"The violence must stop. Moammar Gadhafi has lost legitimacy to lead, and he must leave," Mr. Obama said.
In a clear warning to other regime officials, he added, "To the extent that they are making calculations in their own minds about which way history is moving, they should know history is moving against Col. Gadhafi."
But Mr. Obam<a said decisions regarding U.S. action would be based on "what's going to be best for the Libyan people, in consultation with the international community." Coordination with U.S. allies is key, the president said, to avoid stoking anti-American sentiment by appearing to push for a certain outcome.
"One of the extraordinary successes of Egypt was the full ownership that the Egyptian people felt for that transformation," Mr. Obama said. "That has served the Egyptian people well. It serves U.S. interests well."
But the White House has faced criticism in Congress over its relative reticence in the crisis. Sen. John McCain, Arizona Republican, and Sen. Joe Lieberman, Connecticut independent, have said the administration should take a much harder look at imposing a no-fly zone to ground Col. Gadhafi's air assets.