Fannie, Freddie target of bill
Two leading Senate Republicans introduced legislation Thursday to stop taxpayer-funded bailouts of insolvent mortgage buyers Fannie Mae and Freddie Mac.
"Fannie and Freddie are synonymous with mismanagement and waste," said Sen John McCain of Arizona, who along with Sen. Orrin G. Hatch of Utah, have sponsored the "GSE Bailout Elimination and Taxpayer Protection Act."
The failures of the two government-sponsored enterprises, or GSEs, have cost taxpayers more than $150 billion.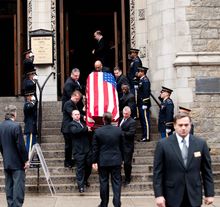 The bill is identical to legislation filed in the House last month sponsored by Rep. Jeb Hensarling, Texas Republican.
"When history is written, Fannie and Freddie will be mother of all taxpayer bailouts," Mr. Hensarling said.
The federal government seized control of the failing mortgage giants during the financial crisis of 2008, and has sought to use them to prop up the collapsed mortgage and housing markets.
Republicans and Democrats agree that dramatic reform is needed at Fannie and Freddie, but they disagree on how - and how fast - to accomplish that.
The GOP bill calls for government takeover of Freddie and Fannie to end in two years. And the companies' government GSE charter would expire in three years, a move that would force them to conduct all new operations as fully private sector companies.
JUSTICE
Prosecutors question potential Edwards witness
Prosecutors investigating former Sen. John Edwards spent several hours Thursday re-interviewing the man who posed as the father of Edwards' out-of-wedlock baby during the 2008 presidential campaign, suggesting they are weighing the strength of their chief witness before deciding whether to indict the former candidate.
Andrew Young met with the prosecutors in his attorney's Washington office for more than four hours. The Associated Press spotted him leaving the building's underground garage in a vehicle with a North Carolina license plate registered to his wife, Cheri, at their home in Chapel Hill.
Mr. Young has already been questioned by a grand jury investigating Mr. Edwards in 2009 and the Justice Department is considering whether to move forward with an indictment. Justice Department officials requested the meeting, according to a person familiar with the investigation on the condition of anonymity.