Peek into a 320-foot blast crater in the Nevada desert or descend a Titan II missile silo in Arizona for a look at two of many "atomic tourism" sites around the world that offer history and sometimes lessons from the deadly aftermath of the nuclear age.
The crisis in Japan has boosted interest in nuclear-related museums and plants, once-secret Manhattan Project complexes and areas laid waste by disaster.
"Anecdotal evidence suggests that there is a great interest in things nuclear in general, and specifically about the Japanese situation," says Allan Palmer, executive director of the Atomic Testing Museum and Nevada Test Site Historical Foundation in Las Vegas.
Attendance was up 12 percent on a recent weekend at the museum, located minutes from the Las Vegas Strip, which came into its own at the dawn of the Atomic Age.
At the National Museum of Nuclear Science & History in Albuquerque, N.M., weekend attendance jumped about 20 percent as work continued at the Fukushima Dai-ichi reactors after the earthquake and tsunami wiped out power to northern Japan.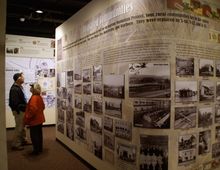 "Folks definitely want information about nuclear reactors and nuclear radiation," says Jeanette Miller, a spokeswoman for the Albuquerque museum.
One of the museum's docents, retired physicist Duane Hughes, says inquiring visitors aren't jittery, but seem confused about reports of the dangers in Japan. The museum brought in a specialist to brief docents on what's going on.
"We try to give people a balanced, factual, truthful response," Mr. Hughes says. "I didn't see anyone who is showing any emotional situations like, 'Oh my God, the sky is falling.'"
Miss Miller and other museum officials say spring break, along with special events such as the NCAA basketball tournament in Tucson, Ariz., are contributing to increased foot traffic.
Other locations that played important roles in the development of nuclear technology stay busy for tours much of the year.
Elsewhere, the Japan disaster coincides with the expected start of government-sponsored tours of Chernobyl in Ukraine later in the spring. They'll include a look at nearby Pripyat 25 years after the worst nuclear power plant accident in history turned it into a ghost town. Tours through private operators began about a year ago and can cost up to $250 per person.
Visitors to Chernobyl see both activity and desolation.
Heavy trucks and other machinery cross the grounds, working on the early stages of a project to build a gargantuan hangar-shaped shelter over the building housing the exploded reactor. In Pripyat, which once housed the plant's workers, high-rise apartment blocks stand empty and slowly are disintegrating.
In Japan, Nagasaki and Hiroshima have museums covering war, reconstruction and peace efforts. The Nagasaki Atomic Bomb Museum and the Hiroshima Peace Site offer minute-by-minute accounts, artifacts and memorials.
Some atomic tourism stops: