The man authorities call the "East Coast rapist," who terrorized random women up and down the Eastern Seaboard for more than a decade, faced a judge Monday in the first of what is likely to be numerous sex-assault cases as investigators from Rhode Island to Virginia mix science and shoe leather to bring charges in one of the most terrifying crime sprees in recent history.
Aaron Thomas, a 39-year-old unemployed truck driver, said nothing during a brief appearance in New Haven, Conn., Superior Court, where he faces charges of first-degree sexual assault in risk of injury to a minor. Police said he raped a 27-year-old New Haven woman in 2007 after sneaking into her bedroom through an open window. The attack took place while the woman's 11-month-old son slept nearby.
Mr. Thomas was ordered held on a $1.5 million bond.
Authorities have used DNA to link Mr. Thomas to 17 attacks in Connecticut, Maryland, Rhode Island and Virginia since 1997. They think he also may have committed dozens of other rapes.
"This case concerned me almost as much as the D.C. sniper case did," Prince William County, Va., Commonwealth's Attorney Paul B. Ebert said, referring to the 2002 attacks by John Allen Muhammad and Lee Boyd Malvo that left 10 dead in Maryland, Virginia and the District.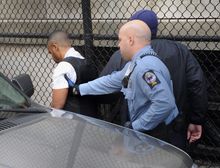 Mr. Ebert said during a news conference Monday that hearing about the arrest of Mr. Thomas was "like music to my ears," according to the Greene County Record newspaper.
Mr. Thomas has been charged in Prince William County with raping two 17-year-old girls who were walking home from trick-or-treating on Halloween night 2009, the most recent case to which Mr. Thomas has been linked.
In that case, which took place in Dale City, police said Mr. Thomas threatened his victims with a gun. In other attacks, he terrorized his victims with a knife or a screwdriver, authorities said. The first assault linked to Mr. Thomas took place in Forestville, Md., in 1997, and subsequent attacks took place elsewhere in Prince George's County, Md., as well as in Alexandria, Va., and Leesburg, Va.
Based on an FBI profile of a serial sexual offender, police think many more victims could still be out there.
"It could be as much as a dozen more," said Detective John Kelly of the Fairfax County Police. He said serial criminals typically have twice as many victims as have been reported.
Anyone with information was urged to contact police through the website www.eastcoastrapist.com.
Authorities had a DNA profile of the attacker in those cases for years, but they couldn't link the profile to a suspect.
Late last month, the FBI published a digital billboard in the states where the attacks occurred that sought information and included a composite sketch of the "East Coast rapist." Within days, authorities said they received a tip from Prince William County that led authorities to Mr. Thomas.
The FBI said that since the start of its digital-billboard partnership, at least 40 cases have been solved as a direct result of tips received, noting that the "East Coast rapist wanted" billboard was "a perfect example." FBI spokesman Paul Bresson said the digital billboard was displayed in a variety of areas, including rural towns in Virginia and Times Square in New York City.
While authorities still didn't have enough evidence to arrest Mr. Thomas, a bit of police ingenuity got them there.