CANNES, France — Stargazers at the Cannes Film Festival were catching sight of some of Hollywood's biggest stars well before Wednesday's evening premiere of "Midnight in Paris," the Woody Allen romance chosen to open the glamorous event.
On hand to meet reporters and festivalgoers earlier in the day were Robert De Niro, Uma Thurman, Jude Law, Angelina Jolie, Jack Black, Dustin Hoffman, Antonio Banderas and Salma Hayek, along with Mr. Allen and some of his cast, which includes Owen Wilson, Rachel McAdams and Adrien Brody.
Capitalizing on the horde of international press at Cannes, DreamWorks Animation and Paramount Pictures brought in Mr. Banderas and Miss Hayek for a photo event and interviews before the festival opened to promote their upcoming animated adventure "Puss in Boots," a spin-off of the "Shrek" franchise.
Mr. Banderas and Miss Hayek posed on a pier on the Mediterranean atop a giant pair of boots bearing the movie's title and discussed the film after DreamWorks showed 15 minutes of footage. The 3-D movie prompted Mr. Banderas to put on his special glasses and give Miss Hayek the once-over as she sat behind him.
"Now we are in three dimensions. … If Salma was beautiful in two dimensions, imagine her in three dimensions," Mr. Banderas said, sizing her up through the 3-D glasses. "Look at this. She is amazing. You should see what I am seeing. It is unbelievable. Wow, Salma, you are like good wine. Time goes by, you get better, baby."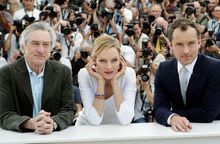 Also outside of the festival proper, Mr. Black, Miss Jolie and Mr. Hoffman came to Cannes for interviews on opening day, along with a news conference a day later for their DreamWorks animated sequel "Kung Fu Panda 2."
Mr. Allen's romantic fantasy "Midnight in Paris" stars Mr. Wilson as a Hollywood screenwriter and wannabe novelist who pines nostalgically for the 1920s Paris of Ernest Hemingway, Gertrude Stein and F. Scott Fitzgerald. On a series of midnight strolls, he's transported back to the city in the time of his dreams, where he learns lessons from his idols about finding one's place — and time — in life.
It was the first film shot in France by Mr. Allen, a frequent Cannes guest. Mr. Allen said he aimed to show the city with the sort of glow he recalled from past big-screen takes on Paris.
"I wanted to show the city emotionally, the way I felt about it," Mr. Allen said. "It didn't matter to me how real it was or what it reflected. I just wanted it to be the way I saw Paris. Paris through my eyes."
"Midnight in Paris" also features France's first lady, Carla Bruni-Sarkozy, who has a small role as a guide at the Rodin museum who helps Mr. Wilson's character translate a French diary that is key to his journeys into the past.
Opening day of the 12-day cinema showcase also features an honorary award for Italian director Bernardo Bertolucci, whose films include 1988 Academy Award best-picture recipient "The Last Emperor."
Mr. De Niro heads the jury that will award prizes among the 20 films in the Cannes main competition. Miss Thurman and Mr. Law join him on the nine-member jury, which also includes Argentine actress Martina Gusman, French filmmaker Olivier Assayas and Hong Kong filmmaker Johnnie To.
Other stars on hand before the festival closes May 22 include Brad Pitt and Sean Penn for Terrence Malick's "The Tree of Life"; Kirsten Dunst and Charlotte Gainsbourg for Lars von Trier's "Melancholia"; Ryan Gosling for Nicolas Winding Refn's "Drive"; and Johnny Depp and Penelope Cruz for "Pirates of the Caribbean: On Stranger Tides."