LONDON — Chinese artist Ai Weiwei has vanished. But look around, and he seems to be everywhere. More than a month after one of China's best-known contemporary artists was arrested while trying to board a flight to Hong Kong, his name, his face and his art have popped up across the globe. China's communist rulers have steadfastly refused to say where Mr. Ai is or who's holding him, but his colleagues in the international art world say they want to make sure he isn't wiped off the face of the earth.
"As long as he's incarcerated, artists and cultural figures will be asking what we can do," said British writer Ekow Eshun, a former director of the country's Institute for Contemporary Arts, on Wednesday.
In London, Mr. Ai's name has appeared at the top of the Tate Modern, one of the United Kingdom's most visited museums. In Paris, a gigantic inflatable plastic amoeba called "Leviathan" has been dedicated to the arrested artist. Academics in Germany have made him a visiting lecturer at Berlin University and over the weekend awarded him honorary membership in the city's Academy of the Arts, which the academy described as a sign of his international importance.
Across the Atlantic, New York Mayor Michael R. Bloomberg has praised Mr. Ai's courage, while in Hong Kong, his portrait has appeared around the city's military garrison.
Many of the events — including two exhibits opening in London and another at Berlin's Neugerriemschneider gallery — were planned in advance of Mr. Ai's arrest. But they've since been turned into de facto demonstrations of solidarity with the 53-year-old artist, whose work has often ridiculed the ideology of China's one-party state.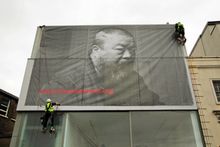 "Where is Ai Weiwei?" asked a stark, two-story-tall banner mounted across the German gallery's yellow-brick facade last month. The Tate, which recently filled its flagship Turbine Hall with millions of the artist's tiny porcelain sunflower seeds, placed the words "Release Ai Weiwei" on the side of its glass-roofed structure.
The two exhibits of the artist's work in London include one in the capital's Somerset House, a high-profile venue that hosts the biannual London Fashion Week. The other, at West London's Lisson Gallery, features a two-story-high black-and-white photograph of the artist staring out from its facade.
In Paris on Monday, British sculptor Anish Kapoor dedicated his latest monumental work to the Chinese artist even though he'd never met him.
"He's a colleague, an artist," Mr. Kapoor told the Guardian newspaper. "In a very simple way, he is heroically recording human existence."
In New York, Mr. Bloomberg joined the city's art community in honoring Mr. Ai at Manhattan's Pulitzer Fountain last week, telling the assembled audience that his fearlessness in the face of official intimidation spoke to "the indomitable desire for freedom that is inside every human being."
In China, where Mr. Ai is thought to be held secretly by state security, activists also have raised their voices. In Hong Kong, which has its own separate legal system, stencils of his likeness have been sprayed around and even laser-projected onto the local army garrison building.
Despite the growing outcry, China has refused to answer questions about the artist's fate.
"This case remains under investigation, and those outside people should refrain from comment," Foreign Ministry spokeswoman Jiang Yu said Tuesday. China's authoritarian government regularly acts to crush dissent, but Mr. Ai's disappearance has been seen as part of a more far-reaching crackdown that followed in the wake of the popular uprisings that have been sweeping the Middle East.
Hundreds of lawyers, activists and other intellectuals have been questioned, detained, confined to their homes or simply disappeared, apparently to squelch any chance of a popular rising.
Gwyn Miles, director of the Somerset House Trust, said that while Mr. Ai could be a provocative artist, Beijing's decision to silence him was a sign that officials there were feeling insecure.