✔ Pick of the Pack
Concert: Foo Fighters
For more than 20 years, the Foo Fighters have been the Switzerland of popular rock. As empires rose and fell on the charts, the currency of the Foo Fighters' music has remained strong, with classics such as "My Hero" and "Everlong" receiving heavy rotation alongside fleeting one-hit wonders for the past decade. The borders of the group's pop-punk style have remained constant and secure, impervious to neighboring genre wars. Frontman Dave Grohl, a self-described "dirty little rocker kid from suburban Virginia" and the former drummer for Nirvana, has done business with musical rogues and autocrats alike, recording with Queens of the Stone Age, Nine Inch Nails and Led Zeppelin's John Paul Jones. No critic has ever dared sack a Foo Fighters album, even though there are a few snide things one could say about married men in their early 40s writing and performing teenage rock anthems (we will not say them). Like Switzerland's famed banks, the band allows music fans of all stripes to feel safe depositing large quantities of untraceable affection. With the rest of the music industry going the way of the imploding European Union, the Foo Fighters are a lonely outpost of reliable album sales, packed concert halls and life-affirming live shows.
Friday at the Verizon Center, 601 F St. NW.
Phone: 202/628-3200.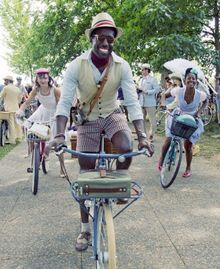 Web: www.verizoncenter.com.
Miscellany: Tweed bike ride
The first "tweed run" was held in London in 2009. Roughly 150 bicycle enthusiasts dressed in tweed and flat caps, and pedaled en masse through the city in celebration of a more refined bicycling past. Within days, the movement spread to San Francisco, where it was called Thursday Tweed Ride. The British Bicycles of Chicago club quickly followed suit with its first Queen's Tweed Ride. Now cities all over the U.S. host bicycling Edwardian fetishists. In the District, Dandies & Quaintrelles is sponsoring the 2011 Tweed Ride, which will feature "multiple routes for riders of varying skill levels, so riders of all styles can happily cavort while decked out in your finest tweed attire." The rolling party will end (or begin, really) at Smith Commons on H Street, where $15 buys you specialty cocktails and light snacks. While the theme calls for tweed, herringbone will do in a pinch.
Sunday.
For route information, register at http://2011dctweedride.eventbrite.com.
Party: Nerd Nite
Most English speakers are familiar with John Donne's "Meditation 17," in which the famed metaphysical poet observes, "No man is an island." Fewer may realize that Donne penned a companion meditation, which he titled "Meditation 17.0.01." This follow-up meditation held that "No nerd is an island." Nerds need companionship, too, Donne seemed to be saying. For communal D.C. nerds, there's DC9's Nerd Nite, which will feature smart people speaking about things that could very well interest other smart people. Mischa Levin will talk about "malware, monetization and how to keep your parents from calling you with their computer problems," Heather Mallory will discuss "how butterflies can learn shapes and colors, how praying mantises learn to avoid foods that make them barf, and how bees transmit complex information about the location and quality of resources using a dance that would make John Travolta proud," Amber Straughn will discuss recent developments in telescope science, and the brainy and very listenable Tereu Tereu will provide tunes.
Saturday at DC9, 1940 Ninth St. NW.
Phone: 202/483-5000.
Web: www.dcnine.com.