Two months after President Obama proposed a $447 billion jobs-stimulus bill, the Senate on Thursday finally found a part on which it could agree: a $30 billion package that promotes the hiring of veterans and ends an unpopular withholding requirement for government contractors.
The 95-0 vote may be the high point of the jobs debate because it exhausts the few planks of Mr. Obama's plan that enjoyed support of both Republicans and Democrats. And that area of agreement is slim — together, the two provisions account for less than 10 percent of what Mr. Obama wants passed.
Still, senators stopped to marvel at the small outbreak of bipartisanship, which has been all too rare in recent years.
"The American people will win, and for one day at least, partisanship will lose," said Sen. Scott Brown, Massachusetts Republican.
It was the fourth vote the Senate has held on either a piece or the whole of the president's plan but the first to be successful. The entire $447 billion package failed on a 50-50 vote, as did a carve-out portion that would have funded state and local teacher and emergency worker salaries. Another bill to boost infrastructure spending fared a little better, garnering 51 votes in favor, but that still was nine shy of the 60-vote threshold needed to advance in the Senate.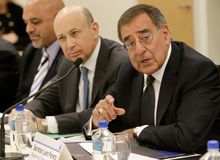 All of those bills were paid for by imposing a surtax on Americans with million-dollar incomes. Republicans have almost uniformly opposed those increases, arguing they would hurt small-business owners and could damage the still sluggish economy.
Mr. Obama supports the bill but argues it's not enough.
Ahead of Thursday's vote, his re-election campaign sent supporters an email blaming Republicans for blocking those earlier measures and trying to rally against the GOP.
"When the timid and the cynical decide to block solutions, they can't be allowed to do it without consequences," said Robert Diamond, who organizes veterans for the campaign, in the email.
The problem now is that there is little else in Mr. Obama's broader tax cuts and spending increases plan that can gain bipartisan support — at least not when coupled with the surtax, which is Democrats' preferred way to pay for the short-term stimulus.
Both the veterans and withholding provisions that passed Thursday got around that by using adjustments to formulas already in law.
In one case, eligibility rules for Medicaid written into last year's health care law were adjusted so fewer people would be able to enroll. The chief part of Thursday's legislation would repeal a requirement that governments at all levels withhold 3 percent of payments to contractors. The requirement was passed by a Republican Congress in 2006 as a way to try to get companies to pay the taxes they owe — much as income tax withholding is designed to get better compliance from individual taxpayers.
But since then, businesses have said it places an economy-sapping burden on them, and federal agencies said it would cost far more to implement than the estimated $11 billion in higher tax revenue the Congressional Budget Office estimates.
The House passed a bill last month to do away with it and sent it to the Senate, where Democratic leaders decided to attach the veterans tax credits as well. Businesses that hire out-of-work veterans could claim a tax credit, as could businesses that hire veterans who have service-related disabilities.