The search for Washington Nationals catcher Wilson Ramos passed the 40-hour mark in Venezuela on Friday, but authorities assured his family that the investigations to find him were "advanced," and issued a second assurance that reports of Ramos' death are false.
"They told us a few hours ago that the investigations are very advanced and not to worry because we're going to finish this as soon as possible," said Marfa Mata, a close family friend of Ramos' who has been with his family since his abduction Wednesday evening.
"They're trying to find him," she said, her voice tired and distressed. "They're following some clues that they have. The family is trying to have faith, you know, but it's not easy."
Authorities then confirmed the same to the Associated Press — that the investigations are advanced and they "hope to solve the kidnapping soon."
In a statement, the Venezuelan police reiterated firmly that any reports of Ramos' corpse being found were false. They also said the sketches of two of the kidnappers the authorities are using will be released through the media at some point on Friday and that they feel they are dealing with an organized operation that had been planning to kidnap Ramos for some time. Ultimas Noticias reported a second SUV was found and it, too, was believed to have been used in the abduction of Ramos.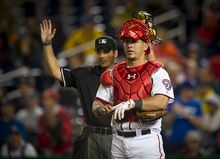 Ramos was kidnapped at gunpoint from his home near Valencia, Venezuela on Wednesday evening.
Authorities confirmed Thursday that Ramos was alive and the car used to abduct him, later identified to be an orange 2007 Chevrolet Captiva that had been reported stolen Tuesday evening from an affluent Valencia neighborhood, was found roughly 50 minutes from Valencia, abandoned in the town of Bejuma on Thursday morning. Investigators then said they had sketches of two of the kidnappers they were using in their search.
Early Friday morning there were also reports of aerial operations being used in the search for Ramos.
According to the AP, Deputy Justice Minister Edwin Rojas told state television on Friday that the government of President Hugo Chavez is "working 24 hours a day to solve this case."