President Obama observed Veterans Day by laying a wreath at Arlington National Cemetery's Tomb of the Unknown Soldier.
The president and first lady Michelle Obama paused for a moment of silence after Mr. Obama, with the help of an honor guard, placed the floral wreath on its stand. Mr. Obama then held his hand to his heart as a bugler played "Taps" on the bright but chilly fall morning.
Mr. Obama, along with Veterans Affairs Secretary Eric Shinseki and Defense Secretary Leon Panetta, then walked to the cemetery's Memorial Amphitheater, where the president delivered remarks calling for "a new spirit of sacrifice" and reminding the crowd that private businesses are starting to meet his recent challenge to hire more than 100,000 veterans.
"To all of our nation's veterans: You are a part of an unbroken chain of men and women who have served this country with honor and distinction. On behalf of a proud and grateful nation, we thank you," he said, standing in front of a group of veteran leaders against a background of three fluttering American flags.
Recalling military achievements of the last decade, Mr. Obama said veterans battled a "brutal" insurgency in Iraq, trained new security forces there and gave the Iraqi people the opportunity "to forge a better future."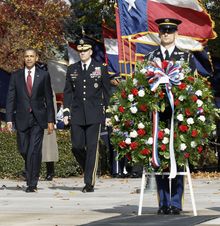 In Afghanistan, Mr. Obama said, the U.S. military has "pushed" back the Taliban and "decimated" al Qaeda, delivering "the ultimate justice" to Osama bin Laden.
"Working with U.S. allies, they also have helped end Gadhafi's brutal dictatorship and return Libya to its people," he added.
The crowd cheered Mr. Obama, especially when he noted that within a few weeks, the "long war in Iraq will finally come to an end."
The president singled out service members who volunteered after the attacks of Sept. 11, 2001, saying those men and women have earned their "place among the greatest of generations."
Mr. Obama told a story of a young boy with Down syndrome in Pennsylvania who works with veterans on public service projects such as cleaning highways, encouraging others to follow the boy's example.
"After a decade of war, the nation we now need to rebuild is our own," he said.
Nearly 5 million men and women who have worn the military uniform in the past decade and their families have born the strain of deployments and should not have to fight for a job or veteran benefits when they return home, Mr. Obama said.
"So on this Veterans Day, let us commit ourselves to keep making sure that our veterans receive the care and benefits that they have earned; the opportunity they defend and deserve; and above all, let us welcome them home as what they are — an integral, essential part of our American family," he said.
In the afternoon, Mr. Obama flies to San Diego for a Veterans Day basketball game aboard the aircraft carrier USS Carl Vinson. The first ever "Carrier Classic" pits Michigan State against No. 1 North Carolina.