STATE COLLEGE, Pa. (AP) — The Nebraska and Penn State players gathered at midfield before the game, kneeling together for a long moment in a quiet stadium.
Sometimes, the most powerful statements are the simplest.
A child sex-abuse scandal involving former assistant Jerry Sandusky has rocked Penn State to its core, cost Joe Paterno his job and prompted a week's worth of soul-searching. Saturday's game was a combination of pep rally, cleansing and tribute, fans and players balancing their wish to show love for Penn State and Paterno while also wanting to support victims of abuse.
"This has been one of the saddest weeks in the history of Penn State and my heart goes out to those who have been victimized. I share your anger and sorrow," new school president Rod Erickson said in a video played in the first quarter. "Although we can't go back to business as usual, our university must move forward. We are a community."
Instead of sprinting onto the field, the Penn State team marched out arm-in-arm through a corridor formed by the band and the Football Lettermen Club. Beaver Stadium was awash in blue — the color associated with child-abuse prevention — right down to the flags accompanying the band.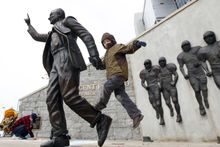 And the normally raucous atmosphere before the game was replaced by a moment of silence for the victims. The somber mood was finally broken by a fan who shouted afteward, "We love you, P-State!"
"It's therapy," Dave Young, a lifelong Penn State fan, said before the game. "I love Penn State football, always will love Penn State football. Tough week, cried in my office a couple times when I had moments to myself.
"But now it's time to release and watch the football game and enjoy it."
It was the first time in 46 years that Paterno was not leading the Nittany Lions, but his presence was still very much there. The Nittany Lions' first play was a fullback run up the middle — old school, just like JoePa. Jay Paterno took his father's usual spot on the team bus, following the starting quarterback off when Penn State arrived at the stadium. The normally low-key Jay Paterno, a quarterbacks coach, pumped his fist and shouted, "Let's go!"
He high-fived passers-by on the way into the stadium, and several staffers gave him an encouraging embrace before he entered the locker room. Several players appeared to have tears in their eyes, and three wore shirts that read "Joe Knows Football."
But this Saturday is about more than football.
It's about picking up the pieces.
Sandusky, once considered Paterno's heir apparent, is accused of sexually abusing eight boys over a 15-year span, with several of the alleged assaults occurring on Penn State property. Two university officials are accused of perjury, and Paterno and president Graham Spanier were fired for not doing enough to act on a 2002 report that Sandusky sodomized a young boy in the showers of the campus football complex.
"We are obviously in a very unprecedented situation," interim coach Tom Bradley said Thursday. "I just have to find a way to restore the confidence and to start a healing process with everybody."
The scandal would be damaging enough to a university that prides itself on its integrity. That it involved Paterno, major college football's winningest coach and the man who'd come to symbolize all that was good at Penn State, made it that much worse.