Like so many other D.C. youths, Alexis Mattocks grew up before her time.
Arrested in 2006 at age 15 on charges of sexual solicitation and possession of crack cocaine, she used an adult alias to stay out of juvenile detention, according to court records.
Eventually committed to the D.C. Department of Youth Rehabilitation Services, she had a child with an older man who had a history of armed robbery and drug dealing, records show.
Then, reeling from the death of her drug-addicted mother, one day last year she walked away from a DYRS group home in Southeast and ended up in North Carolina with that same man.
Now, just weeks after her 21st birthday, Ms. Mattocks faces first-degree murder charges in North Carolina that could lead to the death penalty if she is convicted.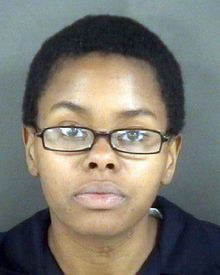 She and Cedric Theodis Hobbs Jr., now 30, were recently indicted in Cumberland County, N.C., on charges of armed robbery, murder and conspiracy in the killing of a pawnshop clerk in November, District Attorney William West said.
The couple had their 9-month-old baby girl with them at the time, according to police, before fleeing to the District in a car they stole from the victim, Kyle Harris, a 19-year-old college student who worked weekends at the pawnshop. Police said the murder weapon, a silver semi-automatic handgun, was the same one used to kill 22-year-old Rondriako Burnett earlier in the day in McDuffie County, Ga.
Both victims were shot in the face.
Hobbs, who allegedly stole the gun from an uncle, has confessed to both killings, police said.
"I know I never getting out," Ms. Mattocks said when the couple were arrested at about midnight Nov. 6, 2010, in the 800 block of Bladensburg Road Northeast, court records show. "Let her go, she had nothing to do with it," Hobbs said, according to a police affidavit.
The Mattocks case surfaces as DYRS is plagued by persistent reports of violence perpetrated by or against youths committed to its custody. The Washington Times reported last November that 1 in 5 homicides in the District during a one-year period involved a DYRS youth as either a victim or a suspect.
On its face, the Mattocks case looks like a wanton crime spree, or that of a confused young woman caught in the wrong place and time.
But a review of court records and interviews with DYRS employees, who spoke anonymously because they were not authorized, raise questions about the agency's limitations when drugs are part of the problem.
While Ms. Mattocks' decisions might have been inevitable given her early exposure and addiction to drugs, her plight suggests that DYRS needs to confront its inability to provide adequate treatment or toughen its response to recidivism.
D.C. Council member Jim Graham, Ward 1 Democrat who is chairman of the committee that oversees DYRS, has advocated for drug and alcohol treatment for years. This year, he directed the agency to invest $1 million to develop a treatment program because he said it did not "have the capacity to address substance and alcohol abuse in youth and, to an extent, mental health issues."