ANALYSIS/OPINION:
A review of the best and worst performances by the Washington Redskins' offense and some observations after re-watching the TV broadcast of their 20-9 loss to the Miami Dolphins.
GAME BALLS
No one on offense receives a game ball for the second time in three games. WR Leonard Hankerson and QB Rex Grossman gave the offense a chance, but each had a role in interceptions that helped keep the game just beyond the Redskins' reach. If players don't start executing their responsibilities better, the Redskins might not win another game.
GASSERS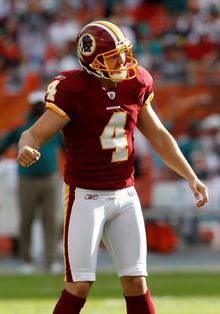 TE FRED DAVIS:Davis' mediocre run blocking has been exposed with TE Chris Cooley out. He is not nearly as reliable capturing the edge. You can't take him off the field because he has special abilities in the passing game, but his inconsistency run blocking was a liability against the Dolphins.
Sometimes he doesn't finish blocks. On RB Roy Helu's 3-yard run on a draw on the first play of the fourth quarter, the Redskins actually had it blocked fairly well — a rarity in this game. RG Chris Chester and C Will Montgomery got to the second level, and LG Maurice Hurt rode the stunting right defensive end to the inside. LB Karlos Dansby rushed upfield from the right edge of the defense, and Davis turned his shoulders and initially rode him past the play. But Dansby quickly changed direction. He was able to recover and make the tackle because Davis didn't finish riding him through and sealing him out.
On the game's second play from scrimmage, LB Koa Misi pushed him two yards back before shedding his block to stop RB Ryan Torain for one yard. Davis began the play standing up as a receiver. Misi got his hands inside Davis' and into Davis' chest; he controlled him from there. On Torain's run for no gain the play before QB Rex Grossman's first interception, Misi got to Davis' play-side shoulder with a rip move and got down the line to make the tackle.
Davis also dropped a potential 29-yard completion in the second quarter despite getting both hands on the ball. Grossman underthrew Davis, who sneaked out the front side on a keeper and ran deep, but Davis said he should have held on despite LB Kevin Burnett's coverage.
Davis did have one nice run block that stood out. Helu gained 10 yards on a delay in the third quarter after Davis ran to the inside linebacker on the second level.
RT SEAN LOCKLEAR: We've seen the past few weeks why Seattle moved on from Locklear after last season. The Redskins' inability to run the ball extends way beyond him, but his technique breakdowns and apparent assignment mix-ups are a major factor.
Locklear didn't block the left defensive end on RB Ryan Torain's 1-yard gain on the first carry of the game. The Redskins' barely converted third-and-3 on an inside draw early in the fourth quarter because Locklear broke down. LB Karlos Dansby ran through him in pursuit of RB Roy Helu when Locklear didn't get his hands up to engage. Before that, Helu was almost stopped in the backfield on the play by DL Tony McDaniel after Locklear's punch failed to affect McDaniel.
Locklear was a bit better in pass protection than he has been in recent weeks, but he still appeared to miss an assignment that led to a sack. Dansby came unblocked and sacked Grossman on the third play of the game. Locklear fanned to his right to account for LB Cameron Wake, who ran with Helu in coverage instead of rushing the passer. Dansby, meanwhile, rushed free to Locklear's left.
RG CHRIS CHESTER: I don't feel all that good about singling out linemen for running game breakdowns because they're widespread and the entire unit's cohesion and timing has been disrupted by injuries. Still, this was not one of Chester's better games.
On RB Ryan Torain's 1-yard loss on the Redskins' second drive, LB Karlos Dansby filled the hole behind Chester, who didn't get off double-teaming DE Kendall Langford until it was too late. On a stretch play to the left that gained only one in the second quarter, Langford pushed Chester two yards behind the line of scrimmage into Torain's path.