CARACAS, Venezuela — Opposition presidential candidates participated Monday in a nationally televised debate for the first time in more than a decade, criticizing leftist leader Hugo Chavez and promising jobs ahead of next year's election.
The event kick-started a primary process within the Coalition of Democratic Unity aimed at uniting Venezuela's splintered opposition behind a single challenger to defeat Mr. Chavez in October's election.
Five candidates participated in Monday night's debate at the Jesuit Andres Bello University in central Caracas:
• Henrique Capriles Radonski, governor of Miranda state, which surrounds the capital.
• Pablo Perez, governor of western, oil-rich Zulia state.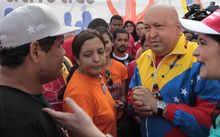 • Diego Arria, a former Venezuelan ambassador to the United Nations.
• Leopoldo Lopez, the former mayor of the Caracas subdivision Callao.
• Maria Corina Machado, the leader of the anti-Chavez civil association Sumate.
Debating three domestic issues - security, employment and education - the candidates were quick to paint the picture of a country in crisis.
"Venezuela is close to becoming a second Afghanistan with oil," Mr. Arria said of the government's inability to curb drug trafficking, which Mr. Perez called a "crime against humanity."
Ms. Machado bemoaned the "collapse" of a politicized judicial system, while Mr. Capriles Radonski said "the world's highest inflation" shows Mr. Chavez's economic model "has failed."
The debate format posed the same, student-submitted questions to each candidate individually, allowing them to contrast their views without attacking each other.
The candidates agreed that Venezuela's rampant violent crime is fueled by drugs, corruption and a lack of opportunities, which prevents the government from solving economic problems such as unemployment and a lack of investment.
They offered few specific solutions to curb the violence, but the candidates were not shy in pinpointing the number of jobs they could create as the country's next president. Mr. Capriles Radonski promised 500,000 new jobs, only to be topped by Mr. Perez, who promised a million.
"Employment is the only way to overcome poverty," Ms. Machado said, alluding to the welfare programs of the Chavez government, which has expropriated land for public-housing projects and has nationalized dozens of companies.