NASHVILLE, TENN. — Alex Ovechkin's move. Anyone who has watched hockey since the NHL lockout knows what it is: The Washington Capitals star skates down the left wing, carries the puck into the offensive zone, curls in, then tries to get a forehand shot on net.
Ovechkin's career highlight reel is full of those moves, often followed by a twirling red goal light, helping pave the way to a couple of Most Valuable Player awards and scoring titles.
Ovechkin became one of the faces of the league thanks to such production and his exciting way of filling the net. But in an age of intense video scouting, those on-the-rush goals seem to have become distant memories.
"I think you tend to just imagine the goals you used to see, because they stood out more in your mind," coach Bruce Boudreau said. "Those opportunities aren't there as much because everybody knows what he's doing now - and they're defending it well."
The man in the middle of a 13-year, $124 million contract still scores goals, something many around the league and within the Capitals' locker room are quick to point out. But calls for Ovechkin to reinvent himself have grown louder as it becomes more evident that the NHL has figured him out.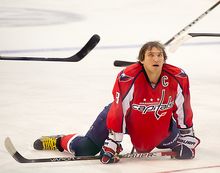 "I think that when he plays against teams, obviously the opponents are going to key on him," Carolina Hurricanes defenseman Bryan Allen said. "Obviously, every player has their tendencies and the way they play. You try and defend that way."
Ovechkin still has a reputation as one of the best players in the world. His talent is irrefutable, and his four 50-plus-goal seasons should be the opening act on a Hall of Fame career.
Instead, there are questions about why his production has slowed.
Anaheim forward Teemu Selanne started his career much like Ovechkin, lighting up the NHL with a rookie-record 76 goals for Winnipeg in 1992-93. His production slipped in the subsequent seasons, but he adapted his game and returned to prominence as a scorer - something that has remained into his 40s.
"Defensemen on teams, they start knowing top guys, what they do, and of course you have to adjust," Selanne said. "And you have to find a way to maybe do different things."
Boudreau said a lot of things are communicated to Ovechkin - and every Capitals player - about making adjustments to improve. The coach said after a recent game that he could see the frustration on Ovechkin's face when the goals weren't coming at the rate to which the perennial All-Star had become accustomed.
Asked whether he thought his game had become predictable, Ovechkin was dismissive.
"No, I still have chances to score goals," he said. "So I just have to score."
Ovechkin is on pace for 36 goals this season, but of his seven so far, none could be considered of the highlight-reel variety. Boudreau mentioned that during Ovechkin's 65-goal season of 2007-08 and other big-time scoring campaigns, plenty were put in from the doorstep as has happened this year.
That's part of what keeps opposing defenses honest.