Energy Secretary Steven Chu denied playing politics in his handling of the failed half-billion-dollar loan to solar-panel maker Solyndra LLC, while defending a decision that put private investors in front of taxpayers in recouping money from the bankrupt company.
Mr. Chu gave his long-awaited testimony days after newly released emails showed that the Department of Energy sought to delay bad news about Solyndra until after the 2010 midterm elections.
"I did not make any decisions based on political considerations," Mr. Chu testified before the House Energy and Commerce Committee's investigations panel Thursday.
Mr. Chu, a scientist known for winning the Nobel Prize before joining the Obama administration, found himself subject to sharp questioning from Republicans who say his department ignored clear signs of Solyndra's shaky finances and broke the law when it restructured a loan deal earlier this year.
"The number of red flags about Solyndra that were raised along the way — many from within DOE — and either ignored or minimized by senior officials is astonishing," said committee Chairman Fred Upton, Michigan Republican.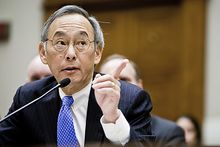 Questions about political influence surfaced anew this week when a Republican staff memo showed that an official at one of the major investors in Solyndra said the Energy Department "did push very hard for us to hold our announcement of the consolidation to employees and vendors to Nov. 3 — oddly they didn't give a reason for that date." The date was one day after the midterm elections.
Rep. Steve Scalise, Louisiana Republican, called the delay "disgusting" and told Mr. Chu to find out who pushed for the layoff announcement and, the lawmaker added, to make "heads roll."
Mr. Chu said he didn't know anything about a move to delay Solyndra's layoff announcement and pledged to find out who was involved.
"It's not the way I do business," Mr. Chu said. "I would not have approved it."
Mr. Chu said the department never considered politics in handling Solyndra, nor did he take into account the role of George Kaiser, who controls an investment firm with a major stake in Solyndra and who was a 2008 fundraiser for the presidential campaign of Barack Obama.
"Absolutely, it was made only on the merits," Mr. Chu said of the Solyndra loan.
The House panel has been investigating Solyndra since February, but the probe intensified after the company filed for bankruptcy in September — two years after the Energy Department awarded the company a $535 million loan-guarantee package through the federal stimulus program.
Restructuring deal
During much of the questioning Thursday, Mr. Chu defended a restructuring of the Solyndra loan this year that allowed private investors to be paid back before taxpayers if the company went broke.
Under the restructuring, the Energy Department agreed that $75 million in new funds from investors Argonaut Private Equity and Madrone Capital Partners would be paid back in the case of a liquidation before the hundreds of millions of dollars loaned to the company by taxpayers.