Go back to Jan. 25, 1998, the night Mike Shanahan's plan to build the Denver Broncos into a Super Bowl champion reached its completion.
In a tie game with 3 minutes, 27 seconds left the fourth quarter of Super Bowl XXXII, Denver took over at the Green Bay Packers' 49-yard line. With the ultimate victory within reach, Shanahan turned to — what else? — his prolific running attack.
Just five plays later, four of which were runs, Broncos running back Terrell Davis trotted across the goal line for the winning touchdown. He had 157 yards and the MVP trophy to go with his championship ring. Shanahan fortified a resume that would eventually land him in Washington.
Snap back to reality now. Shanahan's outlook is much bleaker. The injury-riddled Redskins can't run the ball, and, not coincidentally, Shanahan has lost five straight games for the first time as an NFL head coach.
"The key is the production of the running game," he said. "To me, that's the key to be effective. We're not as effective as I'd like to be right now."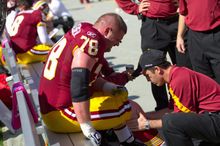 The Redskins have averaged a meager 3.46 yards per carry since they last won a game; only three NFL teams average fewer this season.
The paltry production coincided with left guard Kory Lichtensteiger's season-ending knee injury against the Philadelphia Eagles, which also was tight end Chris Cooley's last game because of hand and knee injuries. Left tackle Trent Williams sprained his right ankle in the first half that day and missed two games.
Since then, the Redskins lost first-string running back Tim Hightower to a season-ending knee injury and right guard Jammal Brown to a strained left groin. As a result, they've used four starting offensive line combinations in five losses.
The consistency on which Shanahan's outside zone running scheme depends has been non-existent.
"Cohesion is so important in any running game, but especially in that game because you're all counting on the same reads — and it's for everybody," said ESPN analyst Mark Schlereth, who played guard on Shanahan's two Super Bowl teams. "When you work on it together, if every guy sees and feels and just anticipates the same thing, then you all work in unison like a bunch of dancing bears.
"I've played with running backs that don't have great speed or great physical attributes but understand that scheme, the mesh points, and really have a feel for what's going on. They can read the same thing the offensive line is reading, and they'll make these natural cutbacks and it's just like everybody's wired together."
The Redskins, then, have their wires crossed. They haven't used the same starting running back in consecutive games since Hightower started in Week 4. Ryan Torain and rookie Roy Helu alternated starts the last three games.
A lack of quality depth has exacerbated the problem. Inexperienced players have been thrown into expanded roles. Second-year center Erik Cook and rookie left guard each started two games during the losing streak.
"You hate to say that and make excuses, but it's just the reality of it," right guard Chris Chester said. "We've had a lot of new guys playing, some guys who haven't played a whole lot and some guys that have played in different positions."
That has resulted in breakdowns galore. Sometimes it's an individual's technique. Sometimes a lineman misses an assignment or the running back fails to recognize a cutback lane.