BALI, Indonesia (AP) — Seizing an opportunity for historic progress in repressive Myanmar, President Barack Obama is dispatching Secretary of State Hillary Rodham Clinton to the long-isolated nation next month in an attempt to accelerate fledgling reforms.
The move is the most dramatic sign yet of an evolving relationship between the United States and Myanmar, also known as Burma, which has suffered under brutal military rule for decades. Obama said Friday there had been "flickers of progress" since new civilian leadership took power in March.
"If Burma continues to travel down the road of democratic reform, it can forge a new relationship with the United States of America," Obama said as he announced Clinton's trip while on a diplomatic mission to southeast Asia.
Clinton will be the first U.S. secretary of state to visit Myanmar in more than 50 years.
In exploring a breakthrough engagement with Myanmar, Obama first sought assurances of support from democracy leader and Nobel laureate Aung San Suu Kyi. She spent 15 years under house arrest by the nation's former military dictators but is now in talks with the civilian government about reforming the country.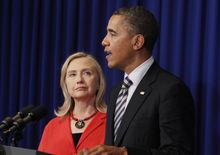 The two spoke by phone on Thursday night while Obama was flying to Bali on Air Force One.
By sending in his chief diplomat, Obama is taking a calculated political risk in a place where repression is still common. He warned that if the country fails to commit to a true opening of its society, it will continue to face sanctions and isolation. But he said that the current environment is a rare opening that could help millions of people "and that possibility is too important to ignore."
Myanmar is subject to wide-ranging trade, economic and political sanctions from the U.S. and other Western nations, enforced in response to brutal crackdowns on pro-democracy protesters in 1988 and 2007 and its refusal to hand power to Suu Kyi's party after the 1990 elections.
Clinton said that while there may be an opening for a democracy push in Myanmar, the U.S. was proceeding cautiously.
"We're not ending sanctions. We're not making any abrupt changes," she said during an interview with Fox News. "We have to do some more fact-finding and that's part of my trip."
Suu Kyi's lawyer, Nyan Win, welcomed news of Clinton's visit.
"It is time for the U.S. to make such a high-level visit. This is going to be a very crucial visit," Win said.
Senior Obama administration officials said the U.S. wants to see a number of actions from Myanmar, including the release of more political prisoners; serious internal domestic diplomacy between the government and ethnic groups, some of which have been in civil war for decades; and further assurances with regards to interactions with North Korea.
The administration's policy toward Myanmar has focused on punishments and incentives to get the country's former military rulers to improve dire human rights conditions. The U.S. imposed new sanctions on Myanmar but made clear it was open to better relations if the situation changed.
Myanmar's nominally civilian government has declared its intention to liberalize the hardline policies of the junta that preceded it. It has taken some initial steps, such as easing censorship, legalizing labor unions, suspending an unpopular, China-backed dam project, and working with Suu Kyi.