Something about Jeff Halpern's performance Saturday night in Vancouver didn't sit well with coach Bruce Boudreau — enough that the 35-year-old former Capitals captain was a healthy scratch for Tuesday's game against the Anaheim Ducks.
Boudreau explained his decision to sit Halpern as the team having 13 forwards and wanting to see Cody Eakin, calling the veteran forward the "odd man out."
Halpern was at a loss for words about why he wasn't playing.
"I don't know. I don't know. It's probably as well as I can play," Halpern said. "Yeah. I don't really know."
Boudreau, when discussing accountability Wednesday, pointed to sitting Halpern and Marcus Johansson because of performance. That seemed to be based off the Canucks game in Halpern's case, because the coach had a generally positive view of the veteran's game.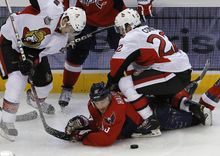 "He's played really well," Boudreau said. "In Vancouver, maybe not as much, but we had seven goals scored upon us and a lot of guys didn't play well."
Halpern's self-evaluation was different.
"I feel like it's been great," he said. "I think our line's done a pretty good job, except for maybe two shifts in the Vancouver game. I'm pretty happy with how everything's been going."
Halpern was considered an upgrade in many ways over Boyd Gordon, who was a penalty-killing and faceoff specialist. Boudreau earlier in the week said the Caps are just starting to realize Gordon's absence.
Yet, Halpern has been better in the faceoff circle overall (65.2 percent to Gordon's 58 percent last season) and better short-handed (70 percent to Gordon's 59 percent).
Halpern, who had a "maintenance" day off Friday in Vancouver, confirmed he was totally healthy, and his body language when talking about being a healthy scratch showed his disappointment.
Boudreau may not have used the word "message" but the team didn't just put someone else in the lineup – the Caps called up another forward in Eakin to play.
"You always want to be in the lineup. You always want to be part of the team and contributing and have that feeling," Halpern said. "There's a lot of good players on the team and in the organization. Nothing to do with the other players. Individually, you always want to be in there."
And, according to Boudreau he'll be there when the Caps visit the Carolina Hurricanes.
"He's going to play Friday," the coach said, "and he'll do great."