College football offered one lesson for the masses this weekend: Don't go to bed too early.
Whether it was Oklahoma State frittering away a 17-point lead at Iowa State or Oregon missing a game-tying field goal attempt as time expired or Baylor quarterback Robert Griffin III carving up Oklahoma, the most meaningful moments in the national title race occurred well after many folks on the East Coast turned out the lights.
For those who couldn't make it to close to around 2 a.m. for Stanford's 31-28 escape of California in the Big Game, here's what you missed: The development of some chaos and some order in the championship race.
First, the certainty. Louisiana State (11-0) is the lone unbeaten from a major conference standing, and it destroyed Mississippi. The Tigers' overall profile — victories over Alabama, Oregon and Auburn — is formidable. So are their next two games, at home against 10-1 Arkansas and then an SEC title date with Georgia in Atlanta. After that? It might be better to start with who played their way out of the season's final game. Oklahoma and Oregon are toast, in part because of what proved to be colossal clock mismanagement in the final minute of regulation.
Baylor appeared content to go to overtime tied at 38, running the ball on its first play after Oklahoma's tying touchdown. But the Sooners called timeout, Griffin scampered to midfield on the next play and tossed a 34-yard touchdown shortly thereafter as the Bears beat Oklahoma for the first time.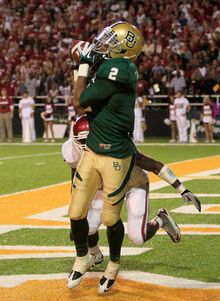 Still, it's easier to understand what Sooners coach Bob Stoops hoped to accomplish with his timeout. What's more difficult to fathom is Oregon coach Chip Kelly's disregard for his timeouts as the Ducks drove in the final minute of their 38-35 loss to Southern California. As wedded as Oregon is to its tempo — and it was the Trojans who actually burned a timeout during that last drive — its devotion to a hurry-up offense didn't allow it to be fully settled. The Ducks wound up missing a 37-yard field goal try as time expired deep into the night.
It also missed out on its chance of playing for a national championship for the second straight year.
Weekend risers
• Southern California.. He might be one of college football's least-liked figures, but Trojans coach Lane Kiffin warrants some credit for getting the Trojans to 9-2 despite enduring another year of a bowl ban. A victory over UCLA all but secures a national top-10 finish.
• Robert Griffin III.. The nation's most valuable player? Perhaps. Baylor's quarterback threw for 479 yards and four touchdowns in the Bears' victory over Oklahoma and ranks second on the season in pass efficiency behind Wisconsin.
• Virginia. Improbably, the Cavaliers still are in the chase for their first ACC Coastal Division title after outlasting Florida State 14-13. Mike London — who might just be in line for a raise for getting Virginia to 8-3 — and the Hoos play for a spot in the ACC championship game Saturday when Virginia Tech visits Scott Stadium.
Weekend decliners
• Clemson. Certainly, an almost flawless game from N.C. State played a role. So did the absence of freshman wideout Sammy Watkins. Nonetheless, Clemson pulled a Clemson, at least with a shaky offensive performance. The good news is, it didn't cost the Tigers a crack at the ACC title or come against South Carolina.
• Texas. The Longhorns lost more than three games once in coach Mack Brown's first 13 years. They've now done it in consecutive seasons, falling to 6-4 with a 17-13 loss to Kansas State. Put another way, Texas has 11 setbacks over the past two years. It had 12 in the seven years before that.
• Oklahoma State.. Sure, the Cowboys lost Friday night, and plenty of havoc unfolded in the following 24 hours. Still, Mike Gundy's team frittered away its unbeaten season with an overtime loss at Iowa State. There's no getting that back, and it'll be tough for the Pokes to play their way into the national title game.