University of Maryland President Wallace D. Loh accepted the recommendations of an athletic commission to cut eight of the school's 27 sports, but also offered a lifeline by granting the affected programs the opportunity to raise eight years of total costs by June 30 to save themselves.
The commission released its report last week suggesting that the university, which has exhausted its supply of reserve athletics funding, eliminate teams in acrobatics and tumbling (formerly competitive cheerleading); men's and women's swimming and diving; men's tennis; men's cross-country and indoor and outdoor track and field; and women's water polo.
The total that all of the sports need to raise is $29.05 million. Based on Athletic Director Kevin Anderson's projections, that is $11.56 million for the swimming teams, $9.46 million for the men's track and women's tumbling and $8.03 million for men's tennis and women's water polo. The teams are paired to keep the school compliant with Title IX, a 1972 federal law guaranteeing equitable opportunities in education.
The process to raise the funds has started. The M Club, the school's letter-winner-booster organization, has pledged $1 million toward the campaign. Mr. Loh wrote in his formal response that all athletic scholarship commitments and affected coaches' contracts will be honored, while Mr. Anderson wrote that two senior development staff members will be allocated to the effort full time.
"I wouldn't be sitting up here in front of you if I didn't think it was possible to raise these funds," Mr. Anderson said.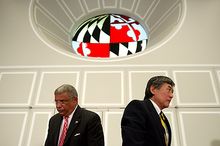 The teams also would need to raise enough money to endow their respective programs in perpetuity by 2020. In response, the swimming and diving teams announced the creation of the nonprofit Save Maryland Swimming and Diving Inc. in an attempt to generate the needed money before June 30.
"I didn't come here to the University of Maryland to cut sports, and I believe we have an opportunity now to do the best that we can to raise the amount of funds to save them," said Mr. Anderson, who was hired in September 2010 to replace longtime Athletic Director Debbie Yow.
Mr. Loh, who became Maryland's president last year, declined to extensively address the practices of the Athletic Department under Mrs. Yow, who is now the athletic director at North Carolina State University. Barry Gossett, a co-chairman of the commission, said there was not an attempt "to play a blame game."
"I don't know if any of us in this room would have anticipated the catastrophic financial meltdown of 2008 and 2009," said Mr. Loh, who made his decision well before his year-end deadline in order to give athletes and their families as much time as possible to make plans. "Our situation is really a microcosm of what our nation has been facing — living beyond our means, spending more than we have."
Mr. Loh accepted the commission's other recommendations, which included improving collaboration between the university and the Athletic Department; reinvesting resources to provide more academic advisers, athletic trainers and sports medicine personnel into remaining teams; and creating greater clarity in the Athletic Department's financial reports.
Still, the reduction of teams was the most notable portion of Mr. Loh's response to the commission.
"This is perhaps one of the most painful and most heart-wrenching decisions I've made," Mr. Loh said.
Maryland's 27-team athletic department is the third largest in the 12-school Atlantic Coast Conference behind only Boston College (31) and North Carolina (28). If the cuts take effect, its 19-team department would be larger than only Georgia Tech (17), Miami (18) and Wake Forest (18) in the ACC.
Yet the department also has faced severe financial constraints in recent years as net revenue from football and men's basketball has declined.
This school year probably won't help: The football program is 2-9 in its first season under coach Randy Edsall and closes its season Saturday at North Carolina State; the undermanned basketball team is 2-2 and unlikely to finish in the top half of the ACC in coach Mark Turgeon's first season.