The pop still echoes through Jarvis Jenkins' mind. Three months couldn't quiet the sound that seems as fresh as the bright scar that works its way up his right knee.
Oh, Jenkins tries to forget the noise that exploded from his knee that August night in Baltimore. He wants to rid himself of the memory of his 310 pounds crumpling to the turf at M&T Bank Stadium, the pop screaming that his anterior cruciate ligament was torn, his meniscus damaged and his rookie year with the Washington Redskins over before it reached the regular season.
Jenkins wants to keep the mental replays in the past, along with the crutches and tears. The next time he steps onto a football field, the next time he cuts, the knee will be stronger than before, Jenkins promises himself.
Six daily rehabilitation sessions at Redskins Park starting at 7 a.m. wiped out his limp. Runs on an anti-gravity treadmill, knee squats and fights to be patient and obey the training staff's orders to bend his knee only 40 degrees when he swears he can do 90 degrees carry him further from that Baltimore night.
Jenkins tries to block those memories, then admits in his next breath he'll never be able to forget the moment that plunged him into the NFL's shadow world of injury rehabilitation.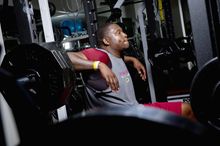 Four minutes and 40 seconds into the first quarter, the Ravens' Ray Rice ran 6 yards off left guard. As Jenkins grabbed at the running back, his knee buckled. There wasn't contact. Just Jenkins suddenly on the turf, then limping off with a tear-streaked face.
Left in the locker room that night, the 23-year-old Jenkins wondered, "How the hell did this happen to me?"
He thought about Clemson, where close friend Da'Quan Bowers, in his first season with the Tampa Bay Buccaneers, got the sacks and attention. Jenkins handled the defensive line's dirty work. In April, the Redskins selected him with the draft's 41st pick. The news left Jenkins' body limp. The third or fourth rounds were the best he hoped for. There wasn't a dry eye among the 50 family and friends crammed into the Jenkins' Clemson, S.C., home for a cookout.
"I tell you what, I'm proud to be his father because of the character he's got," said Larry Jenkins, whose football career was derailed by poor grades and a knee injury. "If I had his character a long time ago, there's no telling what I might have been."
Two preseason starts followed and — pop! — everything paused.
Jenkins hadn't missed a football game since D.W. Daniel High School in Clemson, where coach Randy Robinson marveled over the transformation of a raw, explosive youngster who did the minimum into a senior fixated on the weight room. Fracture a wrist? Jenkins taped it up and played. But tape couldn't fix his knee. Some in the Redskins organization thought he could have been the team's best defensive lineman this season.
Why was this taken from me? Jenkins asked himself. Why did God do this?
An hour after the injury, Larry and Lica Jenkins tried to calm their son on the phone. Not being there tore up Larry. Tears dampened two states. But the parents are tough, the sort who tell their son to get to work rather than drown him in "I'm sorries."
What are you going to do about it? Lica asked Jarvis. Get to work. That's all I can tell you. You've made it this far and you're a man, so I know what you can do.
Keep praying, Larry told his son. Things happen for a reason. Even the knee. It's between you and God. Pray. And get to work. Larry couldn't think of much else to say.