Fallon tweets apology to Michele Bachmann
Jimmy Fallon has apologized to Republican presidential hopeful Michele Bachmann for the introduction that was played when she appeared on his show Monday.
When the Minnesota congresswoman came out to greet Mr. Fallon, the "Late Night With Jimmy Fallon" house band, the Roots, greeted her with a 1985 Fishbone song called "Lyin' Ass Bitch."
Mr. Fallon tweeted Tuesday, "I'm honored that @michelebachmann was on our show yesterday and I'm so sorry about the intro mess. I really hope she comes back."
The song choice was criticized by many, including Fox News' Todd Starnes, who wrote, "Could you imagine if the network had pulled a similar stunt with First Lady Michelle Obama or Secretary of State Hillary Clinton? NBC is not commenting and Fallon doesn't appear to have the fortitude to respond. So allow me to fill in the blanks: NBC, you disgust me."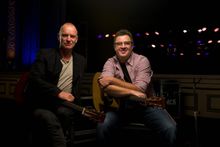 Democratic Rep. Nita M. Lowey called the incident "insulting and inappropriate" in a statement Tuesday. "I do not share Michele Bachmann's politics, but she deserves to be treated with respect," she said.
The Roots' drummer, Questlove, had alerted his Twitter followers of the pending song choice Monday. He told the Hollywood Reporter that Mr. Fallon and producers had not been told about it in advance.
J.R. Martinez claims trophy on 'Dancing With the Stars'
J.R. Martinez started out as the least-known member of the "Dancing With the Stars" cast, but as the season went on, America fell in love with the 28-year-old soldier-turned-soap opera star.
"Dancing" draws 18 million viewers a week who got a firsthand look at the Iraq War veteran with the infectious positive attitude. They heard his story: how he was severely burned on more than 40 percent of his body when the Humvee he was driving for the U.S. Army struck a land mine, how he underwent numerous surgeries over years of recovery. Then they saw him dancing like that had happened to somebody else.
Earlier this month, Mr. Martinez was chosen as grand marshal of the 123rd annual Tournament of Roses parade. He was on the cover of People magazine and named one of its "sexiest men" a few weeks later. And on Tuesday, he became the new "Dancing With the Stars" champion.
Mr. Martinez and professional partner Karina Smirnoff claimed the mirrorball trophy over fellow finalists Rob Kardashian and Ricki Lake.
"We've been able to create a lot of magical moments on the show and to top it off with this is amazing," Mr. Martinez said, holding the glittery trophy.
Mr. Kardashian, who came into the season finale in first place with professional partner Cheryl Burke, said he didn't mind finishing as a runner-up.
"I feel great. I literally did everything I could have asked myself to do and more," the reality star said after the show. Still, he said Mr. Martinez "deserves that trophy more than anyone."