First ladies have long used their positions to wield political influence and advocate their own causes. Our second president's wife, Abigail Adams, was nicknamed "Mrs. President" for her outspokenness on important national issues. Edith Wilson was labeled the "secret president" for assuming executive duties after her husband suffered a stroke.
Eleanor Roosevelt lobbied for civil rights and, after her husband's death, served as a delegate to the United Nations General Assembly. Hillary Rodham Clinton also used her position to pursue her own political ambitions and become the first first lady elected to the U.S. Senate.
These women and other presidents' wives often played more powerful roles than vice presidents in serving the nation, but their accomplishments are glossed over in the new "The First Ladies" galleries at the Smithsonian's National Museum of American History. The exhibition mostly concentrates on dresses and presidential china to present a traditional view of the first lady as White House hostess.
Only a portion of the display, "Changing Times, Changing First Ladies," acknowledges the tangible achievements of presidents' wives, but its scope is limited to just four women from key points in our history.
The legendary Dolley Madison, exalted as "Lady Presidentress" in her day, predictably is heralded for her social skills and patriotism during the War of 1812. Among the artifacts on display is a chunk of charred wood from the White House, symbolic of the first lady's efforts to rescue the large portrait of George Washington and other valuables before the mansion was torched by British troops.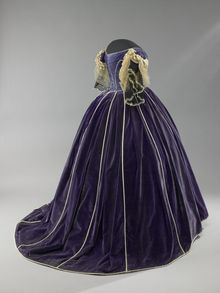 Less known is Mrs. Madison's role in inspiring the term now applied to all presidents' wives. In his 1849 eulogy of Dolley, President Zachary Taylor called her "our First Lady for a half century."
The exhibit moves on to restore Mary Todd Lincoln's place in history, from a depressed shopaholic to an influential anti-slavery advocate who supported Union troops with charitable work during the Civil War.
Mrs. Lincoln's greatest achievement was persuading her husband to view the full emancipation of slaves in human as well as political terms. One of her closest friends was a former slave, seamstress Elizabeth Keckley, who may have crafted the first lady's purple velvet dress on display.
The exhibit curiously skips over the politically active Eleanor Roosevelt — only one of her evening dresses is part of the exhibit — to focus on Teddy Roosevelt's second wife. Though not as well known as her husband's niece, Edith Roosevelt turned out to be a role model for modern first ladies by establishing the managerial style now required for the job. She was the first to hire a social secretary and control press coverage of her children by issuing posed family photos.
The last of the four first ladies to be highlighted is Lady Bird Johnson, whose beautification programs during the 1960s were prescient in their focus on nature conservation. Unfortunately, the exhibit misses the opportunity to document Mrs. Johnson's efforts as they relate to the current environmental movement.
From these histories, the exhibit shifts its focus to the inaugural ball gowns worn by recent first ladies, who are captured on video dancing with their husbands. Given a place of honor is Michelle Obama's snowy one-shoulder creation by fashion designer Jason Wu. It is shown alongside her jewelry and shoes in a free-standing glass case; Mrs. Obama's campaign to halt juvenile obesity isn't mentioned.
Eight first-lady outfits that either haven't been displayed before or haven't been shown for many years have been brought out from storage to become part of the show. One of the most appealing is a wrap-style metallic-threaded dress worn by Lou Hoover, who was the first presidential wife to appear in Vogue magazine.
The new exhibit is the 10th version of the popular first ladies attraction since it debuted at the Smithsonian in 1914. The collection began with the donation of the dress worn by Helen Taft to the 1909 inaugural ball and since has grown to encompass about 1,000 objects, including White House ephemera. Many of these holdings were displayed previously in the museum's west wing, which will undergo a major renovation over the next few years.
Since the collection's beginnings, the role of the first lady has expanded enormously, along with our appreciation of its unofficial but influential position. This evolution deserves to be traced within a larger, more in-depth exhibit at the Smithsonian to reveal more of the important contributions made by our 46 first ladies, not just their tastes in clothes.
WHAT: "The First Ladies"