The D.C. engine company that saw firsthand the advent of the motorized fire truck, civil rights riots of the 1960s and the deadliest crash in Metro history celebrated on Sunday its 100 years of serving the Petworth community.
Past and present members of Engine Co. 24 mingled with city leaders and neighbors in the cavernous garage of the Georgia Avenue Northwest station, as the smell of hamburgers, hot dogs and fish on the grill wafted in the warm November air.
"This is not an easy milestone to get to," said D.C. fire Chief Kenneth B. Ellerbe. "This milestone represents many things; the most important is the service to the community."
The engine company began serving the Petworth area on Nov. 28, 1911, at a station in the 3700 block of Georgia Avenue Northwest. With it came a 500-gallons-a-minute, motorized pump-and-hose wagon, the first of its kind in the city's fire department.
The roughly 4,500-pound engine was no bigger than a modern sport utility vehicle, but it marked a turning point for the District's fire equipment, said Engine Co. 24 Capt. Christopher Sefton.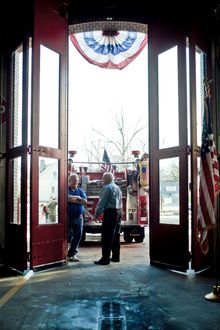 Today, the engine company uses a truck that weighs more than five times that of the original 1911 "Big Liz," and can pump 1,250 gallons of water a minute.
The company worked out of the old Georgia Avenue location for 85 years, until Metro built the company a new home several blocks north to make way for expansion of a subway station.
To be sure, if one looks closely enough at the tan brick and mosaic patterns on the outside of the station, the influence of Metro designers can be seen.
On June, 22, 2009, the two organizations were forced together by tragedy when two Metro Red Line trains crashed, killing one train operator and eight passengers, near the Fort Totten station. The company was one of the first responders on the scene.
Looking around at his fellow attendees Sunday, Jim Gallagher, 73, said he returned to the company he used to work for to "see some of the old-timers."
The former deputy chief was a pump driver and had a front-row seat to the civil rights protests.
"We had a bumper sticker that said 'fire-fighters fight fires, not people,' said Mr. Gallagher, who worked at Engine Co. 24 from 1965 to 1994.
"We worked with the community, but we didn't have the publicity we do now."
Wendy Woods, a Petworth resident since the early 1980s, said she has been very happy with the station and its outreach.
"They've been very good in community relations," she said. "They're very friendly and very family-oriented.