ATLANTA (AP) — Only about 1 in 4 Americans with the AIDS virus have the infection under control with medications, federal health officials said Tuesday.
Part of the reason is that about 20 percent of those infected with HIV don't know it. People can have an infection for years without developing symptoms.
An infection was once a death sentence, but medications that have been available for 15 years can turn it into a manageable condition, allowing those infected to live longer and healthier lives.
However, in its first study of the issue, the Centers for Disease Control and Prevention found that only a small fraction of people are being treated successfully.
"The big picture is we could do a lot better than we're doing today," said Dr. Thomas Frieden, the CDC's director.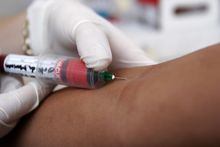 Of the nearly 1.2 million people with HIV, only about 40 percent are getting HIV-fighting medications regularly. Worse, only 28 percent have gotten the virus to low levels in their blood.
That translates to roughly 850,000 Americans who don't have the virus controlled, Dr. Frieden said.
Success rates were lowest in blacks and women than in others, the CDC also found.
There are various reasons why more people aren't doing better, health officials said. Some were still early in their treatment, when the virus hadn't been beaten down to low levels yet. Some dropped routine care because of money or other obstacles. Some didn't stick with it for other, more personal reasons. And, in a small percentage of cases, the medicine may not have worked.
The HIV virus can cause AIDS, an illness that destroys the body's immune system and causes about 16,000 deaths annually. In the United States, the number of new infections each year has held steady in recent years, at about 50,000.
The CDC analysis was based on several sets of data, including surveys and surveillance reports from 2010 and a study that looked specifically at the medical care of people with HIV.
The good news is that once HIV-infected people get plugged into medical care, the drugs bring the virus under control nearly 80 percent of the time, health officials said.
But there are still not enough people being diagnosed, and there's a worrisome gap between those who are diagnosed and those who get in — and stay in — treatment, some experts said.
"It's not good enough to get them tested," said Dr. Diane Havlir, who runs the AIDS program at San Francisco General Hospital.
San Francisco has been unusually aggressive about closing that gap. Patients routinely are tested for HIV at emergency rooms, and everyone who is diagnosed with HIV is offered treatment. Elsewhere, medical treatment can be delayed until their immune system dips to a certain level.