The Christmas shopping season started with a bang and the consumer mood is brightening at a critical time during the month that brings a quarter of the year's retail sales in the U.S.
Major stores such as Macy's and Best Buy reported record traffic from Black Friday through Cyber Monday, with retailers spiking the punch by enticing consumers with some of their deepest and earliest Christmas discounting ever.
Consumer confidence surged out of recession territory as the holiday season dawned, aided by a steadily improving job market and declining prices at the pump, the Conference Board reported on Tuesday.
"The holiday shopping season got off to a good start," despite widespread predictions it would bring only tepid gains over last year, said Tom Porcelli, chief U.S. economist at RBC Capital Markets.
The National Retail Federation predicted sales gains of 2.8 percent over last year, but the performance at the start appears to track closer to other forecasters' predictions of healthier gains of 4.5 percent or higher.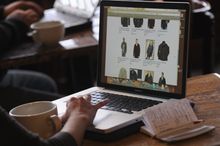 "There seems to be a lot of optimism following a very successful Black Friday," said Mr. Porcelli. But he cautioned against "getting ahead of ourselves" since "promotions were rampant" and could have influenced consumers to buy their gifts earlier than usual.
"It could be a cruel finish to a good start if all this weekend did was pull activity forward," he said. "We're not trying to be a Grinch; we're just making sure we all keep perspective."
The biggest surge since April 2009 in the Conference Board's confidence index last month came "just in time for the holiday season" and resulted in a "well-received" Black Friday-Cyber Monday shopping spree, said Chris G. Christopher Jr., an economist at IHS Global Insight.
He added that, since retailers have had a few rough years and many begin to make profits only at Christmastime, "retailers need all the help they can get."
Holiday sales are particularly important for stores that sell sporting goods, clothing and electronics, as well as department stores, accounting for a quarter to half of their yearly sales and — often — most of their yearly profits.
This year's Black Friday rush was particularly lucrative for electronics dealers such as Best Buy, many of which lured shoppers as early as Thanksgiving Day by offering midnight sales on deeply discounted items such as flat-screen televisions, smartphones and video games.
Because of these "midnight doorbuster" events, which had shoppers camped out in lines waiting for goods in the wee hours of the morning Friday, consumer electronics retailers increased their share of Black Friday shoppers to 24.2 percent from 19.7 percent last year, according to NPD Group, a market research company.
"While holiday sales and traffic were strong, the consumer electronics industry needs that momentum to continue in order to see just as strong a finish to the holiday season," said Stephen Baker, vice president at NPD. "Consumers were driven into the stores by strong promotional deals."
As the consumer goes, so goes the economy. Because consumers drive 70 percent of economic activity in the U.S., the Christmas shopping season provides an important boost — or drag — as well to the overall economy.
It should be a "satisfactory holiday shopping season," reaching record sales of $466 billion in total, even using the retail federation's cautious forecast as a guide, said Harm Bandholz, an economist at Unicredit Markets.