Kennedy Center names Jason Moran jazz adviser
The Kennedy Center for the Performing Arts on Tuesday tapped 36-year-old pianist and composer Jason Moran to be its artistic adviser for jazz, a post held by acclaimed musician Billy Taylor until his death in December at 89.
The generational handoff wasn't planned in advance but makes sense as jazz evolves, musical directors at the Kennedy Center said. Mr. Moran, who lives in New York City and teaches at the New England Conservatory in Boston, won a $500,000 "genius grant" last year from the MacArthur Foundation and is known for mixing visuals and other media with some of his productions.
Mr. Moran told the Associated Press that he thinks often about how to place jazz in a 2011 context.
"It's not like it was in 1959, and it's definitely not like it was in 1939, and it's not like it was in 1900," he said. "Things have changed. Jazz is at a different place right now. So where does it fit, and with whom does it echo?"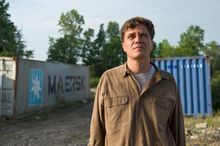 As artistic adviser for the next three years, Mr. Moran will help select artists and develop one of the nation's largest jazz programs. The Kennedy Center presents more than 30 performances each year, including concerts in its own jazz club and performances broadcast on NPR.
But hiring a young, daring adviser won't necessarily bring big changes to the program, said Kevin Struthers, the center's jazz director. He said Mr. Moran can "swing with the best of them" but also take the genre in a different direction.
"I think we have selected someone who is firmly rooted in the traditions of the music," Mr. Struthers said. "Jazz is not to be put on a shelf as a museum piece. It is important that we pay homage to the past, and I think Jason does that through his music, but he puts it in a contemporary setting."
'The Artist,' 'Take Shelter' lead Spirit nominations
The silent movie "The Artist" and the doomsday drama "Take Shelter" led the Spirit Awards honoring independent film Tuesday with five nominations each, including best picture.
Also in the running for best picture were the cancer tale "50/50," the action thriller "Drive" and the family dramas "Beginners" and "The Descendants."
A black-and-white throwback to early Hollywood, "The Artist" also earned a lead actor nomination for Jean Dujardin as a silent film star whose career crumbles as the sound era takes over in the late 1920s. The film grabbed directing and screenplay nominations for Michel Hazanavicius, along with a cinematography slot for Guillaume Schiffman.
"Take Shelter" star Michael Shannon earned a lead actor nomination as a family man who comes unhinged amid visions of a coming apocalyptic storm. Co-star Jessica Chastain was nominated for supporting actress, while "Take Shelter" also received nominations for director Jeff Nichols and a prize for emerging producers for Sophia Lin.
Other lead actor contenders were Ryan Gosling for "Drive," Demian Bichir for the immigrant drama "A Better Life" and Woody Harrelson for the police story "Rampart."
The lead actress field included Michelle Williams as Marilyn Monroe in "My Week With Marilyn." Also nominated were Lauren Ambrose for the single-mom story "Think of Me," Rachael Harris for the road-trip comedy "Natural Selection," Adepero Oduye for the teen drama "Pariah" and Elizabeth Olsen as an escapee from a cult in "Martha Marcy May Marlene."