NAIROBI, Kenya — In Africa's remotest jungle, where paved roads and telephones don't exist, a U.S. aid group is installing new high-frequency radios to help track the Lord's Resistance Army (LRA), a brutal militia that 100 U.S. Special Forces troops are helping hunt.
The Ugandan rebel group is blamed for tens of thousands of rapes, mutilations and killings over the past 26 years. The militia abducts children, forcing them to serve as soldiers or sex slaves and even to kill their parents or each other to survive.
Aid workers hope the initiative by Invisible Children will help villagers quickly raise the alarm when the militia attacks in remote corners of neighboring Congo, Central African Republic and South Sudan.
A four-day LRA massacre that killed more than 300 people in December 2009 underscored exactly how isolated places like northern Congo can be.
The majority of those killed were tied up, some bound to trees, before being hacked to death with machetes or having their skulls crushed with axes, human rights groups said. The wider world didn't learn about the atrocities until three months later.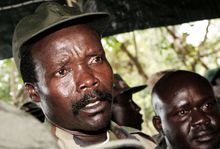 Now people living in these remote areas without phones can report attacks using the new radios, which in some cases are strapped only to a very long stick or tree branch.
The information that communities provide is then given to people who put it up on a sleek website called the LRA Crisis Tracker. Anyone from U.S. military officials to aid workers can see where the LRA has concentrated its most recent attacks.
"The goal of the site is to get timely information on LRA activities, including abductions and killings. It previously wasn't possible," said Adam Finck, Invisible Children's director of programs in Central Africa, by phone last week.
The group launched the site in September along with Resolve and already has mapped about 40 LRA incidents, mostly in northern Congo.
Twenty-five communities have radios, and 12 more radios are scheduled to be put up by Invisible Children at a cost of about $18,000 each. Apple iPhone and iPad users can download a Crisis Tracker app launched last week that shows the attack locations.
President Obama announced in October that he is sending 100 U.S. troops to help advise in the fight against the LRA and its leader, Joseph Kony, a vicious fugitive militant wanted by the International Criminal Court.
As Ugandan troops track the LRA through the jungle, assisted by U.S. intelligence and Special Forces advisers, the Crisis Tracker is garnering praise from the U.S. government. Mr. Obama, in announcing the U.S. deployments, congratulated Americans who have "mobilized to respond to this unique crisis of conscience."
"The Crisis Tracker is a really innovative tool and will be useful as we seek to enhance information-sharing among all protection actors in the LRA-affected area," the State Department's Bureau of African Affairs said in a statement.
A spokesman for the U.S. military's Africa Command, Ken Fidler, said the military is aware of the Crisis Tracker website, but he couldn't reveal whether or how the military is using the information other than the fact the military gathers information from a variety of sources.
Invisible Children supports the U.S. troop deployment and appears, at the very least, not to mind if the U.S. or Ugandan militaries use its information.