As if the zero next to the Washington Redskins' name on the scoreboard last week wasn't enough of a punch in Kyle Shanahan's gut, his wife was ready with some advice when he got home from Toronto.
"She was pretty short with me," said Shanahan, Washington's offensive coordinator and play-caller. "She said: 'Run the ball more.'"
Everyone's a critic when the offense isn't scoring. Shanahan has come to learn that in three and a half seasons calling plays in the NFL.
That's the case these days, as well, with Redskins' injury-riddled offense stuck in neutral. Shanahan isn't bothered by the criticism, though. He's determined to silence it by working to fix the offense's problems.
"Any time you get shut out, I expect to get criticized," he said. "Really what matters to me is whether the players believe in me or not — that's really what it all comes down to. If the players have confidence in you and they believe in what you're doing, then you got a chance. I believe in these guys and I think they believe in me and we just have to go to work."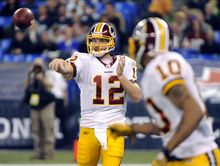 Finding solutions, though, promises to be difficult against the San Francisco 49ers on Sunday. Their defense gives up 5.17 yards per play, the 10th-best average in the NFL. And no team surrenders fewer points than their 15.3 average.
But in giving up a franchise-record 10 sacks against Buffalo last week, the Redskins sunk so low that fundamentals escaped them. At this point, it isn't necessarily what the opposition does; the Redskins must get back to basics — executing blocks and throwing to open receivers — to have any chance at resuscitating their season.
To prove to players that it's possible, Redskins coaches on Monday compiled a video package of 25 plays from the Buffalo game that Shanahan called "big opportunities." The Bills weren't an impenetrable brick wall. The Redskins beat themselves with inept execution.
"This last week was just one of those ones where you just have to say, 'OK, that was gut-wrenching, but that's not us,'" quarterback John Beck said. "We know that's not us, so let's move ahead, put that behind us and let's move forward."
Shanahan is at a disadvantage because his unit has been decimated by injuries. The Redskins last week were without their top running back and receiver, their starting left tackle and left guard and their star tight end.
Coach Mike Shanahan is preaching patience while the backups work toward forming a productive unit.
"Sometimes, those guys have to be almost flawless and your quarterback has to play at a very, very high level," he said. "Sometimes they do; sometimes they don't. As we talk about it as a group, I say, 'Hey, that's the nature of the NFL.' We're not the only team that goes through that. A lot of teams lose players. …
After you go through something like that, you're hoping next time you play with a couple of guys missing you play a lot more effectively than we do."
Kyle Shanahan said coaches have simplified the game plan a bit because relatively inexperienced players are filling greater roles.
Adjustments are important, too. Because pass protection breakdowns were rampant against the Bills, the coaches eventually "tried to get the ball out a little quicker … quick, shallow routes and stuff like that," Beck said.