SPARKS, Okla. (AP) — Oklahoma residents more accustomed to tornadoes than earthquakes have been shaken by weekend temblors that cracked buildings, buckled a highway and rattled nerves. One quake late Saturday was the state's strongest ever and jolted a college football stadium 50 miles away.
It was followed by 10 aftershocks by midmorning Sunday. Although homes and other buildings cracked and suffered minor damage, there were no reports of severe injuries or major devastation.
Saturday night's earthquake jolted Oklahoma State University's stadium shortly after the No. 3 Cowboys defeated No. 17 Kansas State.
"That shook up the place, had a lot of people nervous," Oklahoma State wide receiver Justin Blackmon said. "Yeah, it was pretty strong."
The magnitude-5.6 earthquake was Oklahoma's strongest on record, said Jessica Turner, a geophysicist with the U.S. Geological Survey. Centered near Sparks, 44 miles northeast of Oklahoma City, it could be felt throughout the state and in Arkansas, Kansas, Missouri, northern Texas, and some parts of Illinois and Wisconsin. It followed a magnitude-4.7 quake early Saturday that was felt from Texas to Missouri.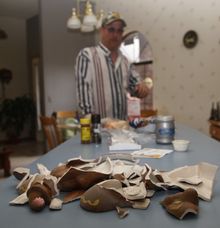 The aftershocks included two that were magnitude 4.0, one about 4 a.m. Sunday and one about 9 a.m., USGS said. The smallest aftershock it recorded was magnitude 2.7. USGS seismologist Paul Earle in Golden, Colo., said the aftershocks likely will continue for several days and could continue for months.
Oklahoma typically has about 50 earthquakes a year and 57 tornadoes, but a burst of quakes east of Oklahoma City has contributed to a sharp increase. Researchers said 1,047 quakes shook Oklahoma last year, prompting them to install seismographs in the area. The reason for the increase isn't known, and Ms. Turner said there was no immediate explanation for the weekend spurt in seismic activity.
Several homeowners and businesses reported cracked walls, fallen knickknacks and other minor damage. Brad Collins, the spokesman for St. Gregory's University in Shawnee, said one of the four towers on its "castle-looking" administration building had collapsed and the other three towers were damaged. He estimated the towers were about 25 feet tall.
"We definitely felt it," Mr. Collins said. "I was at home, getting ready for bed, and it felt like the house was going to collapse. I tried to get back to my kids' room, and it was tough to keep my balance. I could hardly walk."
Jesse Richards, 50, of Sparks said his wife ran outside when the shaking started because she thought their home was going to collapse. One of her cookie jars fell on the floor and shattered, and pictures hanging in their living room were knocked askew. He estimated the big earthquake lasted for 45 seconds to a minute.
"We've been here 18 years, and it's getting to be a regular occurrence," Mr. Richards said. But, he added, "I hope I never get used to them."
An emergency manager in Lincoln County near the epicenter said U.S. 62, a two-lane highway that meanders through rolling landscape between Oklahoma City and the Arkansas state line, crumpled in places when the stronger quake struck Saturday night. Other reports Sunday were sketchy and mentioned cracks in some buildings and a chimney toppled.
"Earthquake damage in Oklahoma. That's an anomaly right there," Todd McKinsey of Moore told the Oklahoman newspaper after the magnitude-5.6 earthquake centered 50 miles away left him with cracked drywall. Most earthquakes that have hit the region have been much smaller.
The crowd of nearly 59,000 was still leaving Oklahoma State's Boone Pickens Stadium when the earthquake hit, and players were in the locker rooms beneath the stands. The shaking seemed to last the better part of a minute, rippling upward to the stadium press box.
"Everybody was looking around, and no one had any idea," Oklahoma State quarterback Brandon Weeden said. "We thought the people above us were doing something. I've never felt one, so that was a first."