Democrats hear stirrings from a 'dead' Old Virginny
Party now clings to power won in 2008
The day after Barack Obama in 2008 became the first Democratic presidential candidate to carry Virginia since Lyndon B. Johnson more than 40 years earlier, Gov. Tim Kaine, one of Mr. Obama's earliest supporters, gleefully proclaimed, "Old Virginny is Dead!"
Democrats had taken control of the state's two U.S. Senate seats. They gained a 6-5 majority in the state's congressional delegation and controlled the Virginia state Senate.
What a difference three years makes.
Virginia Republicans took the top three statewide offices in 2009 and now hold an 8-3 advantage in the U.S. House delegation after knocking off three Democratic members of Congress in last year's midterm elections.
On Tuesday, the GOP has the opportunity to regain unfettered control in Richmond for the first time in a decade — and only the second time since the Civil War — should they pick up at least three seats in the state Senate, which Democrats currently control by a 22-18 margin. A net gain of two seats would give the GOP effective control of the chamber, since Republican Lt. Gov. Bill Bolling casts tie-breaking votes, and they already hold a sizable majority in the House of Delegates.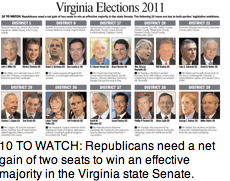 Gov. Bob McDonnell, whose agenda, ambitions and legacy could ride on Tuesday's vote, said he is confident that his party is appealing to Virginia voters who will elect a Republican majority to the Senate.
"What I do know is that the enthusiasm and intensity … [favor] the Republicans," Mr. McDonnell said. "You know, if we get to 20 [seats] I'd be happy. But if things break right, we could do better."
McDonnell's agenda
Mr. McDonnell, characterized by Democrats during the 2009 gubernatorial campaign as a right-wing culture warrior, in his first two years in office has not pressed lawmakers to decide on divisive issues — except perhaps for his plan to privatize the state's liquor stores. Instead, Mr. McDonnell has pursued achievements in economic development, job creation, transportation and higher education, a moderate political agenda that has propelled him to some of the highest job-approval ratings of any governor in the country.
He secured $54 million for economic development and $100 million for higher education in the past legislative session, and he won passage of a $3 billion transportation package — the largest one-time shot of transportation money that the perpetually traffic-congested state has seen in 25 years.
But the Democrat-led Senate thwarted some of his other plans.
An optional defined-contribution plan for the state workers' retirement fund stalled in the Senate Finance Committee — three times — and a budget amendment proposed by Mr. McDonnell to establish one was defeated.
Sen. Mary Margaret Whipple, Arlington Democrat, cited Mr. McDonnell's education proposal last year as another example of a measure that could make it through a Republican-led Senate. The plan, similar to school vouchers, would give tax credits to businesses providing scholarships for low-income students to enroll in private schools.
Priorities like shoring up the $18 billion in unfunded liabilities in the state's pension fund, pursuing K-12 education reform and developing a comprehensive energy policy "all will be a little easier if we have fiscally conservative Republicans in both houses," said Mr. McDonnell, whose Opportunity Virginia PAC has doled out $3.6 million to help support Republican candidates.
Democrats, meanwhile, have made the need for a balanced General Assembly a campaign theme, highlighting GOP-backed legislation and budget priorities that routinely pass the House but are killed in the Senate to demonstrate to voters what is at stake on Tuesday.
View Entire Story
© Copyright 2014 The Washington Times, LLC. Click here for reprint permission.