Not long after taking office as mayor in 1979, Marion Barry presided over a hiring spree that swelled the D.C. government dramatically — creating positions that, even at the time, some doubted were necessary. Three decades later, thousands of those people are still there — now at the peak of seniority.
As a result, the median salary for an executive assistant is now $72,000, with 1 in 10 making $90,000 or more, and the highest-paid making $110,000, a Washington Times analysis of tax records found. Payroll for the District's 33,400 employees has swelled under the strain of a disproportionately aged workforce that includes thousands of low-level workers who are making salaries commensurate with many years of experience.
As these baby boomers hit their 60s, the D.C. government is on the precipice of a wave of retirements that could reshape the face of its workforce and allow the government to replace older public servants with cheaper, younger counterparts — or not at all, shrinking the workforce without painful and politically difficult layoffs.
(For a sortable and searchable database of all D.C. workers' salaries, click here.)
In the mid-1980s, 4,000 D.C. workers began their jobs, more than in any other period until recently, which includes political appointees and high-turnover, low-level jobs. Most of those mid-1980s workers make more than $77,000.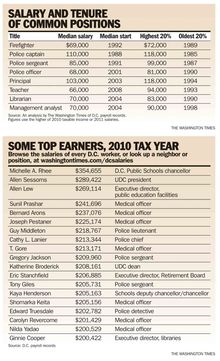 Christopher Best, for example, a custodian who has been on his job since 1985, made $104,759 in 2010, up from $101,329 in 2009.
The transition toward a younger workforce already has begun. The city's payroll is down from 35,100 names in 2008, a decrease that closely parallels the loss of 1,900 workers who started in the 1980s or earlier.
Hundreds who began working for the District in the 1950s and 1960s — half a century or more, in many cases — are still working there, but their numbers are down sharply from 800 in 2008.
Claire Brinkley made $135,000 as a workers' compensation examiner by the time she retired in 2008, ending a career that began in 1960. Police Sgt. Buddy Smallwood is still on the beat, where he has been since 1964.
Some have retired from one city job with a pension, under old rules, and begun working for another.
Most D.C. workers do not make inflated salaries, and the pay for many is relatively low. But it pays to stick around. The mean increase in compensation for those who stayed was $5,500 from 2008 to 2010, according to The Times analysis.
Many with decades of seniority are in jobs that typically are considered the domain of young workers either because they are physically demanding or because they are relatively undemanding of experience and training.
The majority of the 300-plus workers in the Office of Public Education Facilities Modernization, now part of the city's General Services arm, have been there since the 1980s or earlier. The rate is about 3 in 10 workers in homeland security, human services, police and the mental health and procurement offices.
"The positions where people come and stay are entry level, when you look at the education required," said Shawn Stokes, the city's director of human resources.
Even as jobs usually considered entrees in the workforce become lifetime posts because they provide stability for people who lack college degrees, some positions on the front lines of the city's most vital services undergo burnout and turnover that shirks institutional memory and makes experience hard to come by, she added, highlighting some social workers and corrections officers.