ATLANTA (AP) — Republican presidential candidate Herman Cain is vowing to "set the record straight" at a news conference one day after a fourth woman — and the first to reveal her identity — accused him of inappropriate sexual behavior a decade ago, the latest in a string of claims that have rocked his presidential campaign.
"There is not an ounce of truth to all these allegations," and the graphic account from Sharon Bialek is "totally fabricated," Mr. Cain told late-night talk-show host Jimmy Kimmel.
Ms. Bialek stood by her accusation when asked about it Tuesday morning in the wake of Mr. Cain's denial, saying in a nationally broadcast interview that she had "nothing to gain" by coming forward. She said "it's not about me. I'm not running for president."
Mr. Cain planned to address the latest furor in more detail Tuesday afternoon in Phoenix as he seeks to stem the fallout of a controversy stretching into its second week.
"I'm going to talk about it," Mr. Cain said. "We are taking this head on" — a reversal from just days ago, when he told reporters he was done answering questions about the matter.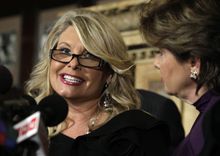 That was before Ms. Bialek went on national television Monday and provided a name and a face to what had, until then, been at least three anonymous sexual harassment allegations against Mr. Cain. Ms. Bialek's accusations — that Mr. Cain groped her in a car after she asked for his help finding a job — spun his unorthodox campaign into an uncertain new territory.
An upstart in the presidential race, Mr. Cain shot to the top of public opinion polls and emerged, however temporarily, in surveys as the main conservative challenger to former Massachusetts Gov. Mitt Romney. Tea party activists and conservatives unenthusiastic about Mr. Romney have flocked to Mr. Cain's tell-it-like-it-is style and self-styled outsider image in recent weeks.
There were, however, growing signs of unease in conservative circles as, one by one, a handful of women claimed Mr. Cain acted inappropriately toward them while the head of the National Restaurant Association in the 1990s.
"He deserves a fair chance, but that doesn't mean he gets a pass. These are not anonymous allegations anymore, unfortunately," said New Hampshire conservative activist Jennifer Horn, who last week had condemned media coverage of the allegations against Mr. Cain. "He does need to take another step and answer a few more questions."
"Oh," exclaimed South Carolina GOP Chairman Chad Connelly said when told details from Ms. Bialek's news conference. He said character issues matter in a state where the last governor tearfully confessed an affair and the current governor faced unproven allegations from two men that she had affairs. "Our voters care about moral attitude," Mr. Connelly said. "Character does matter."
Still, Cain backers remained solidly behind the former pizza company executive. They pointed to the presence of Gloria Allred, a high-profile lawyer with Democratic ties, alongside Ms. Bialek at a news conference on Monday in New York as proof that the latest claim was a partisan smear.
"The fact that she's involved removes all credibility," Georgia Christian Coalition President Jerry Luquire said. "If he says he didn't do anything, then I believe him."
Ms. Bialek said Tuesday she had no financial motivation to come forward, wasn't offered a job and wasn't being asked by Ms. Allred to pay a legal fee.
"I'm just doing this because it's the right thing to do," she said in one interview. Ms. Bialek said she waited so long to come forward because "I was embarrassed … and I just kind of wanted it to go away."
Asked about Mr. Cain's characterization of her charges as a "total fabrication," Ms. Bialeck stood her ground. "I wanted to give him a platform to come clean, to tell the truth," she said. "I was trying to be nice about it, and it just didn't work."