Attorney General Eric H. Holder Jr. said Tuesday that the Justice Department should never have allowed guns to be "walked" to drug smugglers in Mexico as part of its Fast and Furious undercover weapons investigation — saying the operation was "flawed in its concept, as well in its execution."
In testimony before the Senate Judiciary Committee, Mr. Holder described gun-walking as "unacceptable" and noted that weapons lost to the operation — including hundreds of AK-47 assault rifles — "unfortunately" will be turning up at crime scenes in the United States and Mexico for years to come.
"This should never have happened. And it must never happen again," he said.
Although the attorney general expressed regret to the family of U.S. Border Patrol Agent Brian A. Terry, who was killed in December in a shootout where two AK-47s purchased as part of the undercover operation were found, he refused to apologize — even after being prodded to do so by Sen. John Cornyn, Texas Republican.
Asked by Mr. Cornyn whether he had apologized to Terry's family for what happened because of Fast and Furious, Mr. Holder replied that he had not, "but I certainly regret what happened to Agent Brian Terry."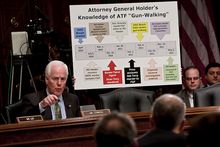 "Would you like to apologize today for this program that went so wrong, that took the life of a United States law enforcement agent?" Mr. Cornyn pressed.
"I certainly regret what happened to Agent Brian Terry. … It is not fair, however, to assume that the mistakes that happened in Fast and Furious directly led to the death of Agent Terry," Mr. Holder responded. "I can only imagine the pain that his family has had to go through, in particular his mother. I am a father, and have three children myself. We are not programmed to bury our kids."
Mr. Holder also acknowledged that he had not talked with the Terry family about their son's death.
But he defended his own role in the operation by saying he took definitive action once he learned earlier this year of the discredited tactics by asking the Justice Department's Office of Inspector General to investigate the case. He also said he issued a directive that such tactics would not be tolerated.
Sen. Chuck Grassley of Iowa, who first started investigating the Fast and Furious operation last year, said Mr. Holder "did a lot of dodging and weaving today." He said the nation's top law enforcement officer "did not seem to be alarmed" that he was not notified that the guns found at Agent Terry's murder scene were from Fast and Furious."
Mr. Grassley, the committee's ranking Republican, called the operation "an utter failure" and wanted to know who would be held accountable for it.
It was Mr. Grassley and Mr. Cornyn who vigorously pressed Mr. Holder during tough questioning for information on when the attorney general and members of his top staff first learned of the Fast and Furious operation and its questionable tactic of allowing guns to be purchased by straw buyers and then transported to Mexican drug smugglers.
Fast and Furious was an operation led by the Bureau of Alcohol, Tobacco, Firearms and Explosives to identify the Mexican cartel members who were purchasing weapons from the straw buyers. Agents had been ordered not to seize the guns or arrest the buyers when they made illegal bulk purchases of weapons at Arizona gun shops.
More than 2,000 weapons were purchased from September 2009 to December 2010, including the AK-47s, Barrett .50-caliber sniper rifles, FN 5.7-mm semi-automatic pistols, and other assorted handguns, rifles and shotguns — about half of which remain unaccounted for.
The Fast and Furious operation was shut down in December immediately after Terry's death.