STATE COLLEGE, Pa. — With tears and regret, Joe Paterno said he would retire as Penn State's football coach at the end of the season, his decades-long model program of "Success With Honor" disgraced by a child sex abuse scandal.
Paterno, the winningest coach in major college football, said he wanted to finish his 46th season with "dignity and determination," though the university's board of trustees still could force the 84-year-old coach to leave sooner.
It also could take action against the school president, Graham Spanier.
In Washington, the U.S. Department of Education said Wednesday it has launched an investigation into whether Penn State failed to report incidents of sexual abuse on campus, as required by federal law.
Paterno said in a statement he was "absolutely devastated" by the case, in which his former assistant and onetime heir apparent, Jerry Sandusky, has been charged with molesting eight boys in 15 years, with some of the alleged abuse taking place at the Penn State football complex.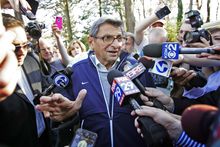 "This is a tragedy," Paterno said. "It is one of the great sorrows of my life. With the benefit of hindsight, I wish I had done more."
Paterno has come under harsh criticism — including from within the community known as Happy Valley — for not taking more action in 2002 after then-graduate assistant and current assistant coach Mike McQueary came to him and reported seeing Sandusky in the Penn State showers with a 10-year-old boy. Paterno notified the athletic director, Tim Curley, and a vice president, Gary Schultz.
Paterno is not a target of the criminal investigation, although Curley and Schultz have been charged with failing to report the incident to the authorities.
In a team meeting at the football complex, Paterno struggled to keep his emotions in check and broke down in tears as he told his players and coaches of his decision to retire.
The players, some seemingly in disbelief, gave Paterno a standing ovation as he left.
"In all the clips I've seen of him, I've never seen him break down and cry. And he was crying the whole time today," quarterback Paul Jones said.
Added safety Nic Sukay: "Obviously, it was pretty emotional. He spent his whole life here and he dedicated everything to Penn State. You could really feel that."
The retirement announcement came three days before Penn State hosts Nebraska in its final home game of the season, a day usually set aside to honor seniors on the team. Instead, this year will be Paterno's goodbye to the Beaver Stadium faithful.
Paterno appeared on the practice field later Wednesday in his signature khakis and navy windbreaker. Within five minutes of the start of practice, PSU officials told reporters to step back and then erected tall wooden boards in front of the fence.
The decision to retire by the man affectionately known as "JoePa" brings to an end one of the most storied coaching careers — not just in college football but in all of sports. Paterno has 409 victories — a record for major college football — won two national titles and guided five teams to unbeaten, untied seasons. He reached 300 wins faster than any other coach.