WASHINGTON (AP) — President Obama saluted Martin Luther King Jr. on Sunday as a man who "stirred our conscience" and made the Union "more perfect," rejoicing in the dedication of a monument memorializing the slain civil rights leader's life and work.
"I know we will overcome," Mr. Obama proclaimed, standing by an imposing granite monument on the National Mall. "I know this," the president said, "because of the man towering over us."
Mr. Obama and his wife, Michelle, and Vice President Joseph R. Biden Jr. and his wife, Jill, joined a host of civil rights figures for the dedication on the sun-splashed Mall.
"He had faith in us," said Mr. Obama, who was 6 when King was assassinated in 1968. Mr. Obama told the crowd, "And that is why he belongs on this Mall — because he saw what we might become."
Mr. Obama credits King with paving Mr. Obama's way to the White House. Before his remarks, the president left a copy of his inaugural speech in a time capsule at the monument site.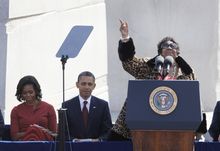 Crowds began to gather before dawn at the memorial site, just to the southeast of the Lincoln Memorial, where King delivered his historic "I Have a Dream" speech during the 1963 March on Washington, galvanizing the civil rights movement.
Cherry Hawkins traveled from Houston with her cousins and arrived at 6 a.m. to be part of the dedication. They postponed earlier plans to attend the August dedication, which was postponed because of Hurricane Irene.
"I wanted to do this for my kids and grandkids," Ms. Hawkins said. She expects the memorial will be in their history books someday. "They can say, 'Oh, my granny did that.'"
Ms. Hawkins, her cousin DeAndrea Cooper and Ms. Cooper's daughter Brittani Jones, 23, visited the King Memorial on Saturday after joining a march with the Rev. Al Sharpton to urge Congress to pass a jobs bill.
"You see his face in the memorial, and it's kind of an emotional moment," Ms. Cooper said. "It's beautiful. They did a wonderful job."
A stage for speakers and thousands of folding chairs were set up on a field near the memorial along with large TV screens.
Organizers anticipated as many as 50,000 people would attend. By 9 a.m., thousands of seats were filled, and attendees were greeted with bright sunshine.
The August ceremony had been expected to draw 250,000.
Even with the smaller crowd, King Memorial Foundation President Harry Johnson called Sunday "a day of fulfillment."
About 1.5 million people are estimated to have visited the 30-foot-tall statue of King and the granite walls where 14 of his quotations are carved in stone. The memorial is the first on the National Mall honoring a black leader.