President Obama began a three-day bus tour to rally support for passing portions of his jobs bill Monday as Senate Democrats introduced the first piece that would temporarily fund some local teachers and emergency workers' wages at a cost of $35 billion.
Just last week, the Senate blocked the president's $447 billion package of new spending and extended tax cuts, so Democratic leaders plan to break it into individual bills, each paid for with a small surtax on taxpayers making $1 million or more. That would frame the choice as one among public employees, construction workers and the jobless on one hand, and the wealthy on the other.
The first bill, introduced in the Senate late Monday, would send money to localities to keep teachers, police and firefighters on the job amid budget cuts nationwide.
"We're going to give members of Congress another chance to step up to the plate and do the right thing," Mr. Obama told a crowd in Asheville, N.C. "We're going to break up my jobs bill into bite-sized pieces. Maybe they just couldn't understand the whole thing at once."
Republicans repeatedly have said they support some parts of the bill and will move them through the House, which the GOP controls — but their list is likely to look dramatically different than Senate Democrats'.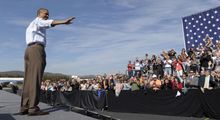 "Democrats have a choice: they can try to divide the country along partisan fault lines for the sake of an election that is still 13 months away, or they can work with us on passing bipartisan legislation such as tax reform, domestic energy production, regulatory reform — that gets at the root of the jobs crisis now," Senate Minority Leader Mitch McConnell of Kentucky said.
Democrats aim to make voting against the bills as painful as possible for Republicans.
Senate Majority Leader Harry Reid, speaking to reporters on Monday, pointed to several Republican senators he said have supported state and local aid.
"We are only doing things that Republicans have agreed on before, this is not something that's new," the Nevada lawmaker said. "Multiple times Republicans have voted for the same kinds of things that were in this bill. the only problem is they were directed by Bush, not Obama."
Mr. Obama's trip in a high-security, $1.1 million bus purchased by the Secret Service (code-named "Ground Force One") will take him to small towns in rural North Carolina and Virginia.
In Asheville, the president said he had "gone out of my way to try to find areas of cooperation with these Republicans," then proceeded to ridicule a GOP jobs proposal released last week.
"They want to gut regulations, they want to let Wall Street do whatever it wants, they want to drill more, and they want to repeal health care reform," Mr. Obama said. "Their plan says we should go back to the good old days before the financial crisis, when Wall Street was writing its own rules. Their plan is, let's have dirtier air, dirtier water, less people with health insurance."
Although the swing through North Carolina and Virginia hits states that Mr. Obama needs to win again in 2012, the president's campaign fund isn't paying for the trip. Taxpayers will bear the cost. White House deputy press secretary Josh Earnest defended the decision, saying it's part of the president's job to get out in the country, meet ordinary Americans and push for his jobs bill.
"He's been to red states like Texas," Mr. Earnest said. "The president's been traveling across the country to make his case."
As the president arrived at the airport in Asheville, some in the crowd chanted, "Four more years" and "Yes, we can."