Gray Ghost Vineyards has a curious way of building customer loyalty: Make them work for their wine.
During the fall, hundreds of customers turn out to help with the harvest. Their reward? The opportunity to buy a case of wine at a 15 percent discount (plus lunch and a T-shirt).
"I love wine, and I wanted to see the process in action," said Kristy Malik, 30, explaining why she woke up at 5:15 a.m. to make the drive from Lucketts to Amissville, Va. "It is hard work," she said, bending over to place a grape cluster into a yellow bin.
Up the road, a half-dozen volunteers at Delaplane Cellars sat around a table, plucking stinkbugs, spiders and moldy grapes from the vineyard's Cabernet Franc crop. Sorting grapes isn't glamorous, but the work is crucial this year, said Jim Dolphin, Delaplane's owner.
"The wetness and the humidity has in some cases led to botrytis, which is a mold that can lead to sallow rot, which is basically where the grapes start to rot on the vine and turn to vinegar," Mr. Dolphin said. "It's going to be impossible to make great wine this year."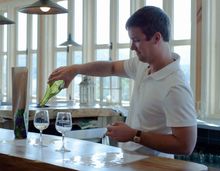 Starting with Hurricane Irene, Virginia's winemaking region has become drenched during the last months of grape-growing season — the time when vintners most hope for drought to concentrate the berries' flavors.
Although 2011 Virginia vintages may be a bit of a disappointment, 2011 wine sales have been spectacular. The state's wineries have sold at least 462,112 cases, an 11 percent increase over 2010.
The state attracts about 1 million wine tourists annually, and they bring in more money than the wine itself. However, these gains may be the result of relentless marketing and a legislative climate that is more favorable than the weather.
"We've been spoiled over the last six vintages or so," said Andy Reagan, winemaker and general manager at Jefferson Vineyards in Charlottesville. "We've had vintages not characteristic of Virginia. In Virginia, you can expect a tropical storm to come flying off the coast — and stationary fronts to hang over top of us like bad relatives."
The 113 wineries that have popped up in Virginia since 2003 have enjoyed unusually dry growing seasons until this year. To avoid the drenching rain of Irene, many growers had to pick their white grapes early, before they reached peak ripeness, said Mr. Reagan. As for the reds, growers' hopes for a late-season dry spell to refine overly plump berries have largely been dashed, he said.
Weather isn't the only element working against Virginia grape-growing.
The state's fertile soil — great for most other crops — is bad for wine grapes because it encourages the vines to direct energy toward bushy leaf growth instead of grape development, said Kathryn Morgan, a master sommelier and former wine director of Citronelle in D.C.
Winemakers also prefer soil that drains quickly, like California's sandy stock, because it keeps grapes from becoming overly plump, Ms. Morgan said. Virginia soil, in contrast, holds water like a sponge.
Pretty much the only thing that Virginia has in common with California, at least this year, is earthquakes.
"It's definitely a challenging area for grape-growing," Ms. Morgan said. "Most of the great grape regions you think of can be warm or wet, but not both."